Due to the latest achievements of technology, psychology, and science, new and more effective methods of education are developed. In order to meet the current and future business needs in terms of employee competencies, it is worth getting to know them and use them in the Learning & Development process.
This article will explain the following:
how the digital transformation changed the area of L&D and how the market responded to this change;
what skill gap is and how it can be managed;
what the most modern methods of L&D are: social learning, peer-to-peer learning, blended learning, and adaptive learning;
how these methods can be implemented with selected tools.
Which way does Learning & Development evolve?
Learning and Development is a systematic process aimed to increase knowledge and improve employee skills. It allows companies to achieve better results. Moreover, it is a dynamically developing area which is particularly influenced by digital transformation.
Using scientific discoveries in the field of the psychology of learning and then implementing them with the use of the latest technologies leads to the creation of systems which allow companies to obtain previously unattainable results in terms of effectiveness and efficiency in employee development. It is estimated that the L&D industry will achieve an approximately 11% growth in 2018-2022 (1) and will be worth $30 trillion. Therefore, to stay ahead of the competition, it is worth finding out why this area should be observed and why the modern tools available in Learning & Development are valuable.
What is "the skill gap"
The dynamic reality of changing trends and consumer requirements translates into the need for continuous transformation of organizations and their employees. The skills gap is a situation when the team's skills do not match the needs of the business. Enterprises and larger companies which do not adapt fast and which have a slower decision-making process are particularly vulnerable to this phenomenon.
The reason for this can be seen in the extremely fast pace of technology development – which education does not keep up with – but also in the inappropriate implementation of training paths. The latter aspect can be easily addressed.
The skill gap often results in reduced productivity, lower work quality, and decreased employee morale.
Why are traditional training methods no longer sufficient?
In 1996, Michael Lombardo and Robert Eichinger presented the 70:20:10 learning model in Career Architect Development Planner. It was created on the basis of interviews with 200 managers about their learning method. This model assumes that the development of employees is as follows:
70% daily work and demanding tasks
20% acquiring knowledge from colleagues
10% participation in training
This standard approach does not anticipate many common workplace issues. For example, when the company does not provide its employees with enough time to calmly and thoroughly learn about new topics, responsibilities or tools. Nowadays, such situations are more and more frequent in – but not limited to – companies introducing innovations.
Enterprises associated with the traditional approach to responsibilities (e.g. post offices or public offices) also tend to meet the needs of customers by implementing modern technologies. In such cases, the demand for new competences increases significantly, often in a limited time frame. Learning and Development provides means to effectively bridge the gap between business needs and available qualifications.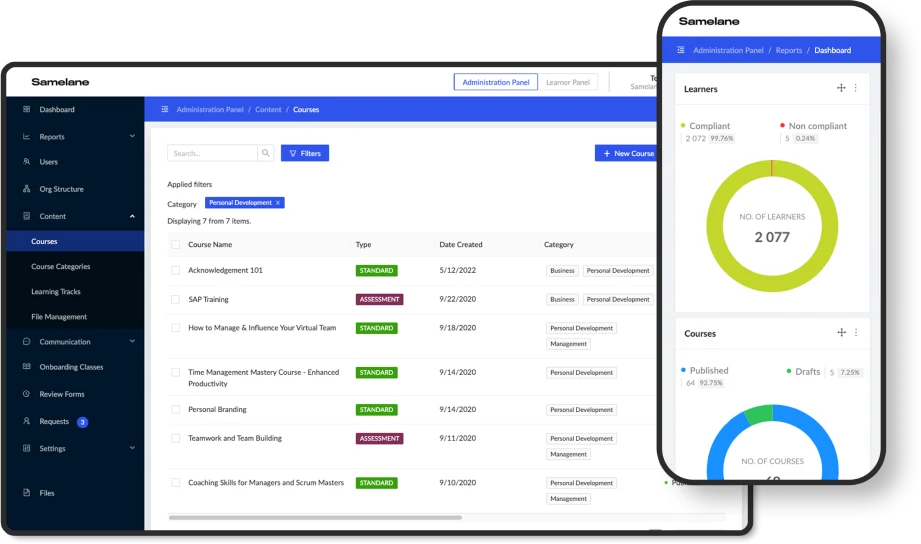 Book a demo presentation to try Samelane in action
New, more effective ways of learning
We all know the traditional approach to transferring knowledge in companies – training courses, unstructured conversations with colleagues, or carrying out daily duties. Today, such solutions are not enough. Modern educational methods improve the results of employee development. Digital educational tools implement the latest achievements in the field of psychology. A list of effective learning methods and their applications is presented below.
Social Learning
Social Learning is a learning process based on the observation and imitation of specialists. This way, employees can master selected skills and then apply the acquired knowledge in practice. As research by Brandon Hall Group shows, the application of social learning provides a return on investment ratio of 75:1 compared to traditional forms of learning. Digital solutions using social learning contribute to creating a culture of knowledge sharing in the company.
Peer-to-Peer Learning
The peer-to-peer method constitutes collaborative learning and knowledge sharing between employees with similar competences. This method is gaining popularity due to, among others, significant savings it generates. Learning takes place horizontally – employees learn together – and not vertically, i.e. between a manager / expert and an employee.
A common starting point and familiarity with the work environment allow employees to build relationships based on thorough understanding of the mutual situation. In such conditions, trust is built, and a comfortable atmosphere allows for a more pleasant, and thus more effective assimilation of knowledge. Better self-esteem and improved perception of others are additional benefits. The collision of attitudes and approaches to knowledge contributes to generating reliable, in-depth feedback. In the peer-to-peer process itself, new skills are also acquired, such as cooperation, critical thinking, problem solving, and assertiveness. Nobody in this relationship has a position of authority, and cooperation is the foundation of this process.
In many organizations, a Learning Management System (LMS) is seen as a top-down knowledge-sharing tool. This, however, does not have to be the case. Flexible platforms make it possible to share various types of content, including documents, tips or acquired knowledge. The freedom to create content translates into the freedom to use the platform, and this in turn builds commitment in the company. In order to control the provided content, the final approval of the shared documents should be left to platform administrators.
Blended Learning
Blended Learning is a way of learning that combines mixed learning methods. The most popular model includes both traditional, direct contact with the instructor and e-learning. A digital learning platform allows users to have unlimited access to knowledge in the form of courses, videos, conference records or tests, and thus contributes to the inclusiveness of knowledge in the company. It also generates significant time savings – both for teachers and attendees – as the courses can be created and held at any convenient time. Moreover, this method ensures that the learning process is measurable.
A direct, face-to-face contact with the trainer makes the courses individualized, deepening the information provided and dispelling doubts arising during the course. It also facilitates forming relationships, which can be extremely important, especially during onboarding. Due to the fact that the information obtained during remote training courses with an instructor can generate mutual feedback, blended learning is considered to be highly effective.
Adaptive learning – AI in education
Adaptive learning utilizes in-depth analyses of employees' results in order to adapt the content to them. Such a method is possible in a system based on artificial intelligence algorithms. A digital learning platform adjusts the content to the preferences and results of individual participants. This solution results in, above all, the development of effective learning paths, the reduction of boredom, and the implementation of interesting courses tailored to the user.
This digital learning solution shows how far the digital transformation of education has come. Learning management systems based on artificial intelligence are the most modern, and training employees is characterized by an individual approach which takes into account the participants' needs and potential.
Recent months have revealed the latest pressing requirements in the field of L&D, and have demonstrated a number of advantages resulting from the implementation of appropriate tools. The necessity to train scattered team members and to transfer, share and manage knowledge in a dynamically changing reality becomes a huge challenge. A digital learning strategy is a revolution worth being part of.
Sources: