Although blended learning has evolved rapidly due to the availability of modern technologies, it cannot be denied that the COVID-19 pandemic has had a huge impact on the dynamically progressing changes in this area. The restrictions in many countries forced both organizations and educational institutions to quickly change the existing teaching models and adapt to the completely new reality. What is b-learning characterized by and why is it worth applying?
This article will explain the following:
What is b-learning and why is it still gaining in importance?
What are the benefits of hybrid learning?
How to use blended learning in your organization?
B-learning – definition
Teaching methods have evolved over the years and began to more effectively meet the changing needs of society. They are becoming not only more efficient, but also more and more often available on demand. Teaching methods are also becoming more and more accessible, both in terms of time and available topics. And although it cannot be denied that the role of the trainer is in many cases redundant, it does not mean that classroom education can be completely eliminated. On the contrary, in many disciplines, its role is not in danger. As the results of numerous surveys and studies show, hybrid learning is an extremely effective solution today – it combines the features of stationary and remote learning.
Hybrid learning methods which combine traditional teaching with direct contact with methods involving the use of a computer or a mobile device are known as blended learning or b-learning.
Although the concepts of hybrid and blended learning are often treated as synonyms, some sources indicate that there are significant differences between them. Blended learning assumes the use of online tools and materials, but at the same time involves direct contact with the trainer. The use of multimedia resources diversifies the training and, simultaneously, allows students to independently manage a part of the training process – e.g. adjust its pace to individual preferences. Hybrid learning involves the use of appropriate tools, such as a Learning Management System (LMS), to provide multimedia materials to be used outside the training room.
The benefits of blended learning
It cannot be denied that online learning can be as effective as classroom learning. However, there are many types of training in which traditional approaches involving the participation of a trainer are more advantageous than remote learning – and vice versa. The growing popularity of blended learning is due to the fact that it combines both of these approaches and allows them to be used in any proportion – so as to best respond to the needs of students and provide them with the necessary content in the most accessible way.
From the point of view of the organization, the costs and time necessary to equip employees with specific knowledge are naturally crucial factors. In this respect, mixed training fares very favorably, as it is largely scalable and suitable for a large group of recipients. The involvement of the trainer is relatively low and it is not necessary for the entire duration of the training. As a result, it is possible to simultaneously train a much larger number of employees than in the traditional model and at a much lower cost.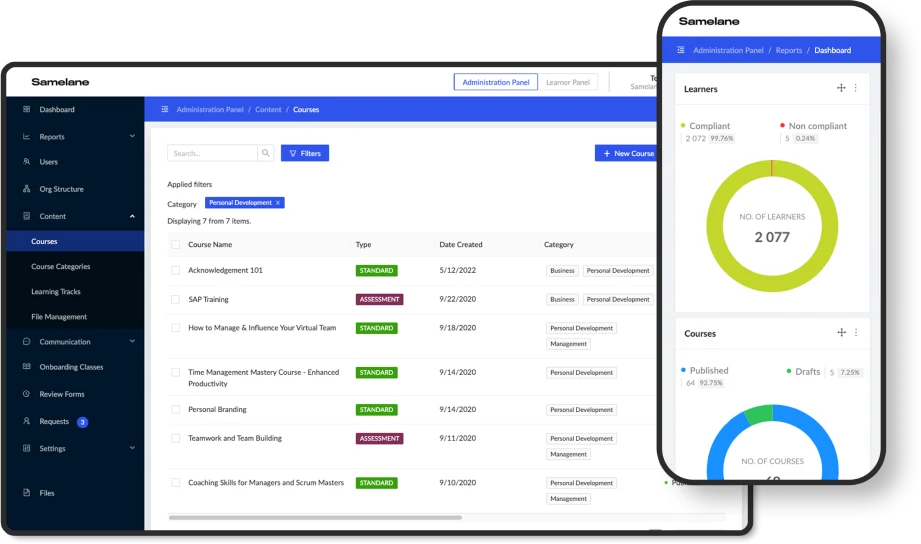 Book a demo presentation to try Samelane in action
Blended learning also positively influences the level of student involvement and, consequently, is a much more effective teaching model. Thanks to the availability of many online materials, students come to the meeting with the trainer armed with certain knowledge, which allows them to ask more specific questions, actively participate in discussions, and test the acquired knowledge in practice. Another huge advantage is that each course participant can use the provided materials at any time, on any device, and at the pace appropriate for them. They can also come back to specific issues at any time in order to dispel their doubts or review the most important information.
The benefits of using blended teaching methods are clearly confirmed by the results of many studies and surveys. The results of one of them indicate a significant increase in student involvement (it was observed by as many as 73% of the trainers participating in the survey), as well as a higher level of knowledge acquisition, which was indicated by as many as 60% of the surveyed teachers. The survey also shows that 59% of students are more motivated to learn in the mixed model.
Tools used in b-learning
Mixed forms of learning have a number of tangible benefits – for both students and organizations that decide to use them. However, it is necessary to use intuitive tools that will allow course participants not only to efficiently share training materials but also to easily create and edit them.
An LMS, a learning management system, is perfect for this role. With its help, you can quickly and efficiently create attractive educational materials and build complete training paths from them. An LMS will also help manage student enrollment for a scheduled training course, remind them about the upcoming session, and will also serve as a platform for sharing documents and comments by the participants.
Nowadays, the changing needs of students and the increasing willingness of organizations to improve involvement levels, prompt organizations to reach for futuristic technologies. When choosing an LMS to effectively support the current and future training needs of the organization, it is worth verifying whether it is equipped with, among others, the following functionalities:
Artificial Intelligence (AI) – allowing the trainees the most personalized training options and, at the same time, collecting a lot of key information about the students – including their habits and behavior.
Virtual reality (VR) – allowing the courses to be conducted in a completely virtual world, created specifically for a given training – e.g. a company production hall or a laboratory to learn about the details of their operation, the equipment used, or the possible risks.
Augmented Reality (AR) – allowing course designers to extend the surrounding reality with digital elements – e.g. additional information related to operating a specific machine when the student is standing in front of it.
There used to be a popular belief that online training does not work well for on-the-job or practical training courses. The use of augmented reality effectively changed that. Thanks to technology, even practical training courses can be conducted without the need to involve experienced employees in training sessions and incur significant costs associated with it.
Sources: