The e-learning industry is currently booming. This is largely due to the use of artificial intelligence in LMS (Learning Management System) platforms. What are the main reasons for this state of affairs? What can you gain by using AI in your remote learning platform? Which LMS is the best? We will try to answer all these questions in the article below.
The advantages of using artificial intelligence
Greater commitment
Artificial intelligence in e-learning platforms increases the involvement of participants. This is due to a personalized experience, as well as the participation of virtual tutoring. It is the machine that motivates the student to learn – assigns tasks, assesses knowledge, asks about results and reminds students about initiated courses. Consequently, the training programs you create are more effective.
Automated knowledge assessment
Thanks to AI, no one has to supervise employees, send reminders about material revisions, or inform staff about the need to renew training. Everything happens automatically and results are checked only occasionally in summaries generated by the application.
Fewer resources involved
Key employees in the company, especially competent trainers, may devote themselves to tasks other than teaching or work on further, even better training. Many tedious tasks are performed by the system for them – it prepares content transcripts, reminds students about deadlines, answers their questions via chat, or tests their knowledge.
Increased profits
Obviously, this means more profits for the organization. The increase in employee knowledge translates directly into the knowledge and competences of the entire organization. Consequently, it can operate more efficiently, deal with more businesses or produce more.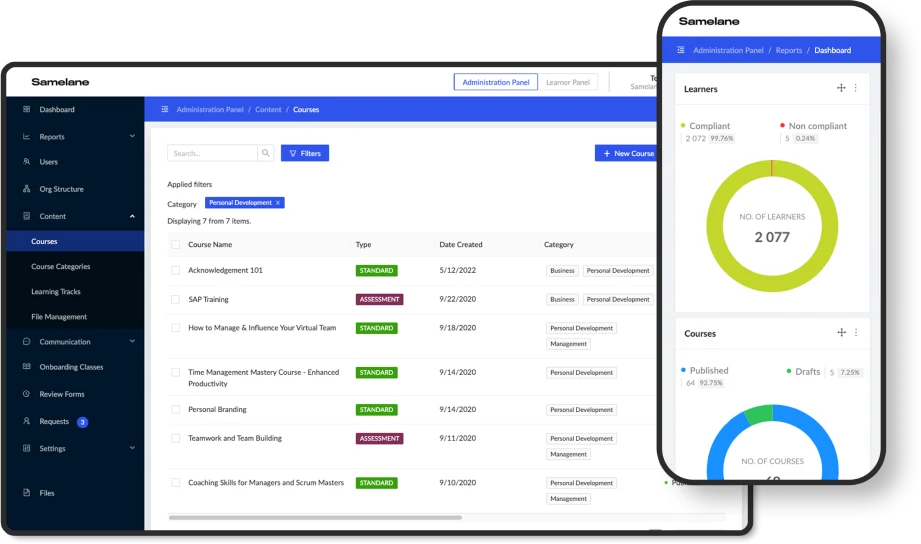 Book a demo presentation to try Samelane in action
What Artificial Intelligence can do for your LMS?
You are probably wondering what artificial intelligence can do for you in the context of learning or whether it is worth adding its elements to an already operating LMS system. The effects of a comparable scale, as mentioned above, are not achievable manually or the processes are not scalable in any way.
Functions which cannot be achieved without the help of advanced technologies are also worth mentioning. Augmented reality training sessions, e.g. in production plants, are an example here. It is impossible to learn how to work on a specific machine model by reading an e-book or even watching an instructional video. However, this can be done with AR/VR with a virtual trainer and smart glasses. This solution leads to huge savings, not only in trainers' time, but also in money – due to the reduction of typical human errors.
What is the best LMS system?
When writing about the LMS, it is impossible not to mention our own E-learning Platform for Business – Samelane. It is an LMS – For Big Organizations, but also for smaller companies which want to invest in the rapid development of their employees – and thus their own. It allows businesses to easily create training courses and tests and provides the possibility to share them with other users. This platform obviously supports files from many training standards, such as SCORM, TinCan (xAPI), video, video 360, audio, text, HTML5, PDF and quizzes.
Samelane allows users to train using Augmented Reality, which is irreplaceable in production plants of any kind, especially during the lockdown period. Thanks to convenient audio-video consultations with remote experts, employees gain access to the knowledge and experience of specialists in the event of unusual situations or critical failures regardless of where the consultants are.
Why will AI change your relationship with Learning Management Systems?
Properly implemented artificial intelligence in LMS platforms makes them a source of a completely different experience for the user and provides much better results to the organization itself. Employee engagement, knowledge and practical skills increase. It is also important to be able to conduct training directly at production plants, but without the participation of a trainer, which would not be possible without AI. However, the most important aspect is the motivation of users to gain knowledge and allow the organization to grow.