Investing in personnel is undoubtedly necessary, but it's also a chance to establish a competitive advantage and to keep talent onboard. However, certain steps are required. Namely, designing a proper educational policy, preparing interesting educational materials, and monitoring competence development processes within a company. Modern educational systems, such as LMSs, are tools precisely for that. How do they work and what functionality do they offer?
What is an LMS platform and what functions does it serve?
A Learning Management System is an internet platform designed to efficiently and coherently manage learning processes in an organization.
It allows users not only to create and provide various courses and educational paths, but also to monitor the status of a given course and its completion level. This can be achieved on the level of the whole organization or department as well as of an individual employee. Additionally, such a platform offers multiple options of optimization and automation for training courses, which leads to significant savings in money and time.
How does an Learning Management System work?
The growing importance of personnel training has been consistently observed for years, whether initiated by employers or employees. This process results in dynamic growth in the market of educational platforms and online courses. Currently, LMS solutions are provided by hundreds of entities. Such availability is reflected in the variety of solutions offered. Multiple platforms only provide basic functionality, but numerous others use the latest technologies, including artificial intelligence or augmented reality.
Choosing the optimal solution should always be preceded by an in-depth analysis of the current and future needs of the organization. The selected e-learning platform should not only offer the possibility of independent and intuitive course creation, but also the formulation of rules which automate the provision of training. As a result, as soon as employees of a specific department are added to the company's organizational structure, they should receive an appropriate set of training materials. The system should also remind them of the possible need to repeat or revise the training after a certain period of time, removing this obligation from HR employees.
An extensive reporting system is an essential element of any remote education platform. Artificial intelligence (AI) is the best form of support and is especially important in the context of large organizations employing tens of thousands of employees and analyzing huge data sets every day. In their case, the use of intelligent algorithms which automate work is a necessity.
The possibility of conducting in-depth analysis on training data allows companies to quickly identify competency gaps among employees, monitor the completion status of individual training courses, and analyze feedback from participants. Survey results can be used to further improve the training process and the currently used educational materials.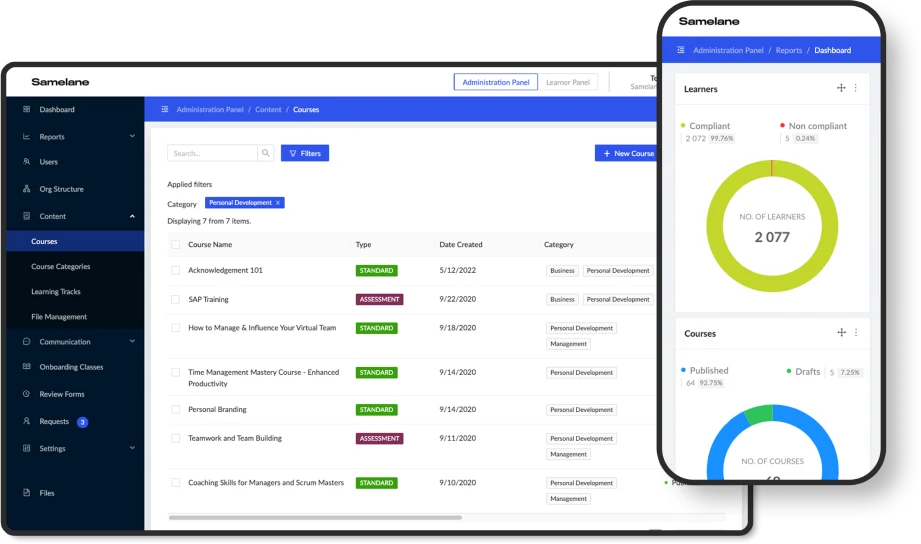 Book a demo presentation to try Samelane in action
LMS functionality for big organizations and small businesses
Although it might seem that such advanced educational platforms are dedicated to large corporations, they can also be successfully used by entities employing only a dozen or several dozen people.
Due to the scale of their operations, large corporations were undoubtedly the first to recognize the need to implement automation and efficient training policies, but this does not mean that small and medium-sized enterprises cannot use the same solutions. On the contrary – in many cases, stationary employee deployment and training require a lot of time and considerable financial expenditure, including problematic scheduling, potential transport to/from classrooms, accommodation, allowance, etc. Transferring training to an e-learning platform can save a lot, and, at the same time, enable employees to participate in training at any place and any time, e.g. during business trips.
The most important functionalities of remote learning platforms include:
Training content management
An intuitive interface and the ability to independently create new and modify existing courses are some of the basic characteristics of good LMS platforms. The types of supported formats – Audio, Video, Video360, SCORM, PowerPoint, quizzes, etc. – are also worth paying attention to, as they make it possible to create more interactive, and thus more engaging courses.
Creating education and certification paths
In the case of larger organizations which offer dedicated training for particular groups of employees, creating dedicated training and certification paths is an important function. As a result, other sets of courses are assigned to employees of sales, administration, or finance in the system.
In the context of providing training courses, it is important that a Learning Management System offers the possibility to create automatic rules. Thanks to them, appropriate training sessions can be assigned to specific employees in a fully automated manner. Similarly, in the case of training sessions which should be conducted periodically, they can also appear in the panel of a specific employee without the need for additional activity on the part of the platform administrator. It is enough for the administrator to assign the course to a specific employee or group and introduce a cyclical rule.
An extensive monitoring and reporting system is necessary to efficiently manage the training process within an organization. It allows supervisors to track the progress of employees, monitor the completion of specific courses, create a competency matrix for individual teams, and consequently enable even more precise planning of further educational activities.
Smart education in practice
The demand for individual functionalities of LMS platforms largely results from the specificity of a given business. A large accounting company would need training sessions different from a manufacturing company which may require numerous hours to deploy employees and provide obligatory industry training resulting from applicable law.
In the first case, a simple educational platform with basic functions would probably suffice. The training of financial department employees usually does not require reaching for interactive and technologically advanced solutions.
The situation is somewhat different in the context of companies or departments where long-term employee deployment and training processes are the standard. In such cases, a better choice would be an LMS offering, for example, an augmented reality module enabling the creation of engaging implementation training with models of machines and devices that the employee will have daily contact with. Such an innovative solution wouldn't be less effective than stationary training, and would also generate considerable savings. It wouldn't require the involvement of an experienced employee in the training process, and thus wouldn't disturb the continuity of the entity's operations.
The benefits of a Learning Management System
Investing in a modern e-learning platform brings a number of benefits – both those that can be accurately estimated and those less tangible. The most important ones undoubtedly include:
effective support for the achievement of business goals, which definitely include the continuous development of employees' competences;
the ability to manage the process of raising qualifications in the company in a comprehensive manner and, importantly, in a single application;
arranging the know-how in the organization and thus maintaining business continuity in the event of a sudden absence of key employees;
access to advanced reporting options, thanks to which possible competency gaps can quickly be identified and appropriate remedial steps can be taken;
saving time and money currently spent on organizing training and implementation courses in a stationary form, on planning them and reminding employees to complete mandatory tests or surveys;
the possibility of creating dedicated training paths, supporting the achievement of the organization's goals, as well as the personal development of employees and the level of their job satisfaction.