From the corporate point of view, it is nowadays extremely important for employees to constantly develop and, consequently, become more effective and engaged in work. However, achieving such a result is not easy. It requires managers to design and implement an effective learning and development (L&D) strategy. By offering employees wide opportunities to raise qualifications, promoting a culture of continuous development, and simultaneously creating conditions conducive to learning, it is possible to effectively stimulate competency development in employees and to retain talents in the structures of the organization. What is social learning? How to use social learning in the workplace?
This article will answer the following questions:
What is social learning?
What do social learning in the workplace and online social learning look like in practice?
What are the benefits of social learning?
While nowadays much is being said and written about social learning, the theory isn't at all new. Its origins date back to the 1970s, when it was formulated by the Canadian psychologist Albert Bandura. According to its assumptions, learning is a cognitive process which takes place in a social context. This means that we learn primarily by observing others, analyzing the effects of their actions, and imitating the behavior that, in our opinion, allows us to achieve specific goals.
How does social learning work?
Although it may seem that in today's world, in the era of hybrid work and direct contact limited by the pandemic, social learning is almost impossible. It turns out that it is not entirely true. Thanks to modern technology and universal access to the Internet, one can easily find people who share an interest in specific topics and are ready to exchange experiences. The way in which communication and knowledge exchange will take place – during classroom training or in an internet messenger (e-learning) – does not matter in the slightest.
This is crucial in the context of designing and implementing an effective competence development strategy. Although research results still suggest the necessity of formal training, 90% of the time devoted to learning can be used to expand competencies on one's own – benefiting from the experience of others and learning at a convenient pace. [1]
The importance of social learning is also emphasized by the 70/20/10 model formulated by Michael M. Lombardo and Robert W. Eichinger in the book "The Career Architect Development Planner". The authors' aim was to find out how to maximize the effectiveness of professional development. The conducted research resulted in the definition of three main sources of knowledge, which were then given a percentage share corresponding to their importance in the process of improving one's own competencies. And so:
70% of knowledge is gained by the employee through practice and performance of daily duties, as well as additional tasks assigned to him or her by the supervisor;
20% of knowledge comes from social learning, i.e. observation of activities undertaken by colleagues, exchange of knowledge or feedback received in various situations;
10% of knowledge comes from formal courses and training.
The 70/20/10 model clearly shows that social learning should be included in the L&D strategy of any organization. It would also be reasonable to provide an element of cooperation and greater interpersonal interactions during formal training and to create optimal conditions for discussion or exchange of personal experiences. In the case of stationary training, such an effect is achieved by an experienced trainer, and in mixed and remote training models, a modern Learning Management System (LMS) would certainly be helpful.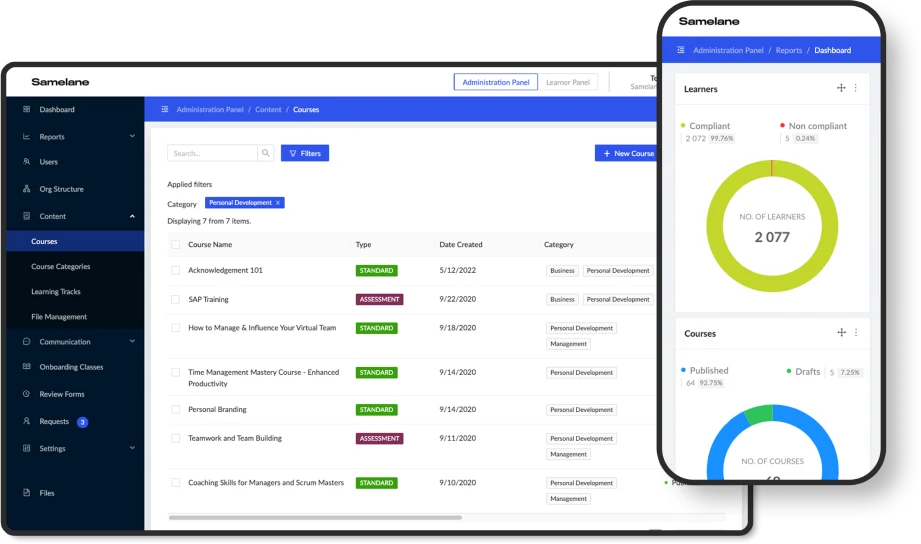 Book a demo presentation to try Samelane in action
The advantages of social learning
Social learning brings a number of benefits to both employees and organizations. The 70/20/10 model suggests that it is even twice as effective as formal training and courses. It is therefore worth focusing on social learning and, consequently, improving the efficiency of the competency improvement process. The employee will be satisfied and motivated to continue learning by achieving learning goals, and the organization will reap tangible benefits from such an investment.
Nowadays, reaching for social learning is still considered a good practice, but there are many indications that it will soon be something completely natural. Why? With each year, the share of the millennial generation in the general working population is growing, and for its representatives, social media, as well as various forms of social learning, are a natural part of their everyday life.
A dynamic response to the changing needs of employees is undoubtedly a huge challenge, but it is also a necessity. Today, it is one of the most effective ways to retain talent in company structures – as many as 94% of employees say that they would stay in companies longer if their needs for learning and development were fulfilled. [2]
How to apply social learning in the workplace?
Providing employees with opportunities for social learning requires employing appropriate techniques and solutions. The creation of a central e-learning platform should be the starting point. However, it is important not to use a classic LMS with basic functionalities, but a Learning Management System based largely on communication and collaboration. A modern social learning platform should provide space for sharing knowledge and discussing key business topics.
An engaging Learning Management System should also offer features directly derived from social media – the ability to follow the latest information and updates, comment, and approve. In order to effectively motivate employees to raise their qualifications, it is also worth reaching for elements borrowed from the world of games – i.e. the chance to collect points for performing specific actions and climb the ranks of the most active and committed users. A huge advantage can also be found in using elements of virtual or augmented reality, which allow participants to experience the environment known so far only from computer games.
On the one hand, such wide opportunities for interaction are a learning motivator for employees. On the other hand, they are an opportunity for the organization to improve the learning process, identify the most interesting content for individual employees, and offer them slightly more personalized development paths.
Creating an appropriate system infrastructure and offering employees wide training opportunities is no less important than fostering a culture of raising qualifications and sharing knowledge in the organization. Employees should have access to company experts and mentors to discuss key issues with them, consult individual development paths, and obtain feedback on achieved progress. By redefining the company's L&D strategy in this way, it can be significantly improved, adapted to the current expectations of the demanding labor market, and used to positively impact employee rotation.