The development and increase of employee qualifications is, on the one hand, an opportunity to improve operational efficiency, and on the other, an effective way to retain talents in the structures of the company. The implementation of such a scenario, however, requires effective management of the L&D process, as well as the use of modern technology. A Learning Management System (LMS) is a chance not only to reduce training costs, but also to relieve the HR department employees. How to effectively manage the L&D process in the company?
This article will explain the following questions:
Why is an L&D strategy worth implementing?
How to effectively manage L&D?
What is the role of an LMS in the L&D process?
How can Learning and Development benefit the organization?
The development of employees and their competencies should be permanently inscribed in the DNA of any organization, as it results in a number of positive changes for the company. Properly trained and motivated staff is a guarantee of the smooth functioning of the entire company, and thus provides a great opportunity to improve competitiveness and key indicators – increasing revenues, reducing costs, boosting the level of customer satisfaction, etc. However, the effectively recognizing training needs and offering employees an appropriate set of training courses is a condition for the successful implementation of such a scenario.
Such a solution is also necessary for maintaining the continuity of company operations. Today, more than ever, a properly designed and implemented strategy for the development of employee competences affects the level of their commitment to work, as well as their willingness to remain in company structures. The labor market is extremely demanding today, and the recruitment of suitably qualified employees is associated with the necessity to incur considerable costs. Therefore, it is worth making sufficient efforts to keep employees with desired sets of competences in the company for as long as possible.
"(…) 40 per cent of employees who receive poor job training leave their positions within the first year. They cite the lack of skills training and development as the principal reason for moving on."

– go2HR –
How to plan the L&D process?
The process of employee L&D always starts with the planning stage and defining the competence development strategy. At this stage, it is crucial to understand the strategic goals of the company, the direction in which it is heading, and thus the current and future training needs. It is often a difficult and complex process which requires conducting a series of interviews and analyses, and using the results to define a competency development plan.
Such a plan should also be supplemented with a contingency for emergency situations, which could be useful in the event of a significant drop in sales, the resignation of key personnel, a change in applicable regulations, or even a significant budget cut. It is, of course, not possible to prepare a strategy for every possibility during the planning stage. Therefore, it is necessary to monitor the situation on an ongoing basis and proactively modify the training strategy if the circumstances so require.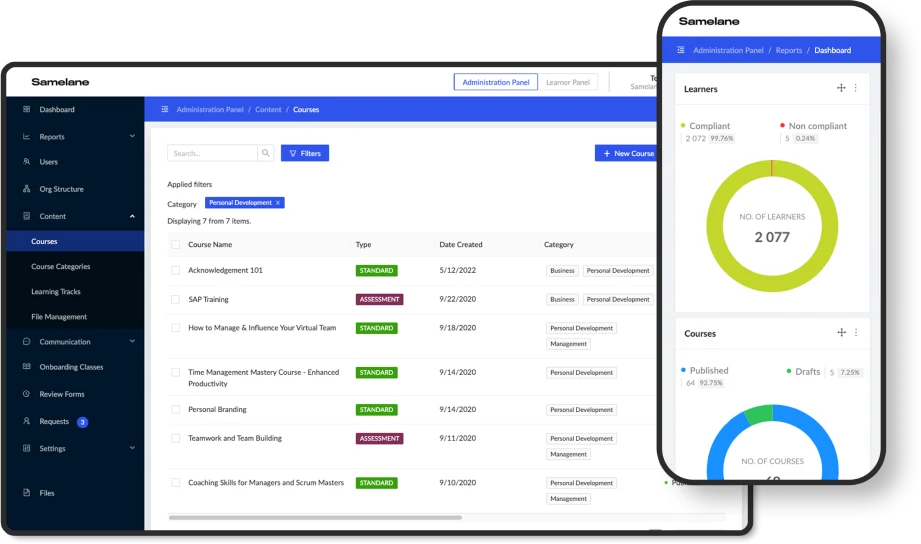 Book a demo presentation to try Samelane in action
4 principles of effective L&D management
What should be taken into consideration in order to effectively manage the Learning and Development process?
Effective management of Learning and Development requires a precise definition of roles and responsibilities, and the formulation of goals and indicators that will be used in the future to measure the effectiveness of operations.
The implementation of an employee competency development strategy requires support and promotion from the management of the company, and commitment on the part of line managers as well as regular employees who have competencies of key importance.
Managing the L&D process requires ongoing monitoring of actions undertaken in employee competency development, measuring the level of their effectiveness (ROI) and, consequently, supplementing them with additional initiatives which fit into the company needs and career development paths defined in the strategy.
Efficient training management requires proper system infrastructure – a modern LMS will significantly facilitate the operations, automate many tasks, and have a positive impact on the level of staff involvement and fluctuation.
Tools which facilitate L&D management
The implementation of a employee competence development strategy is undoubtedly a great challenge. This is true especially when it comes to a large company operating on many markets, employing personnel in several locations, and having to take into account in its strategy very different needs and expectations of individual groups of employees. Bearing in mind the above, using modern technology is noteworthy and helpful. A learning management platform (LMS) is, of course, the right solution which bring the company numerous tangible benefits.
First of all, an LMS allows companies to centralize and organize all available educational materials and supplement them with additional courses, or update them corresponding to the needs reported by individual departments.
A learning management platform is also an opportunity to democratize access to educational materials, create training paths corresponding to the career paths defined in the development strategy, and offer the employees an opportunity to constantly improve their qualifications and competences. As to availability, it is worth mentioning that an LMS provides the possibility of training not only in company headquarters and on company equipment, but in any place and situation. A good LMS provides access to training materials both on stationary and mobile devices, due to which employees can train in any convenient place and at any time (e.g. on the way to work or during a business trip).
The chance to automate a large part of Learning and Development management is very important from the business point of view. Transferring classroom training to the online world saves time and money, but also allows companies to avoid the need for long-term planning and organization. This applies primarily to compulsory and periodical training. An LMS will automatically assign a set of on-boarding training to new employees and help to coordinate the course of compulsory training – it will remind participants of the upcoming deadline and force them to re-join a course if they fail.
Advanced functionalities with regard to training progress monitoring and reporting are, in turn, an extremely powerful tool in the hands of HR departments. It allows HR to identify employee training backlogs and potential competency gaps, and also enables feedback analyses in order to take appropriate action.
How to ensure a continuous L&D process?
The dynamically changing working conditions, rapid technological progress, and a high level of competition make the training needs of employees more susceptible to change than ever. Ignoring those needs and forcing employees to look for development opportunities outside the structures of the company is an effective way to lose them.
By using a Learning Management System, an company can build a modern educational platform and supplement it with training materials which are important for business development and attractive for employees. However, providing a wide range of skill development opportunities is a considerable challenge. It is not only necessary to organize an appropriate system infrastructure which will facilitate knowledge distribution, but also to prepare engaging and substantive training.
This task is most often performed by members of the L&D team. However, increasing employee involvement and, at the same time, promoting knowledge sharing culture may be worth inviting company experts. This will undoubtedly affect morale and allow the company to retain knowledge, which is often in the hands of individual people.