Onboarding is constantly gaining in importance, especially in remote or hybrid work modes. It allows companies to retain employees and creates conditions conducive to effective work. In order to improve the quality of this process, it is worth using a dedicated tool – a learning management system.
This article will answer the following questions:
How important is the employee onboarding process?
Why can an LMS positively influence onboarding?
What functionalities of the Samelane system help design the highest quality experience during onboarding?
Why is onboarding important?
Onboarding is one of the key processes in any enterprise. First, it affects the speed with which employees begin performing their duties and performance efficiency (productivity can increase by as much as 70%[1] thanks to a well-designed onboarding process). However, onboarding is also the first point of contact with the employer and gives new hires the opportunity to form relationships, build their image of the employer and shape their commitment and loyalty.
The above-mentioned aspects directly affect the value that new employees bring to the organization – both by increasing recruitment return rate and by reducing turnover and increasing their stay in the company. This is confirmed by research – 69% of people will stay in the company for more than 3 years if they have been successfully onboarded[2].
While this information seemed to be common knowledge, remote or hybrid work introduced during the pandemic made it necessary to look at what employee onboarding looks like. After temporary downtime, the demand for services and products has increased, and thus the need to expand teams has arisen. Employer image has become a key factor in attracting talent, especially in highly competitive industries. Effective onboarding and positive employee experiences have become essential for employee retention. In such conditions, improved onboarding adapted to the pandemic reality has become a necessity.
The application of an LMS in onboarding
When designing the onboarding process or adjusting it to market requirements, it is worth considering dedicated tools. One such tool is a Learning Management System (LMS). It allows companies to improve every stage of onboarding – from selecting offers to conducting periodic evaluations.
The employee is onboarded step by step with the help of a dedicated program. All tasks, checklists, and necessary details are gathered in one place. Due to this, introducing tools, procedures, rules, or other necessary training aspects is smooth and systematic. The automation of onboarding is another advantage, as it reduces the risk of error and guarantees that repetitive administrative tasks can be performed at a high-quality level. This allows organizations to build positive employee experiences and provide high-quality onboarding.
A Learning Management System also increases the effectiveness of the onboarding process. Due to an individual approach and the ability to track progress, the employer is assured that new hires will acquire the necessary knowledge. In addition, an LMS also offers effective evaluation procedures.
5 ways to improve the onboarding process with Samelane
If the above-mentioned advantages sound unreasonably good, it is worth learning about the 5 functionalities of the Samelane platform that significantly improve the onboarding process.1
1. Development paths
Samelane enables the creation of course paths that can be dedicated to individual employees (for example in the case of company tool and procedure procedures), as well as to specific projects or professional groups (in terms of specialist knowledge). From the company's point of view, repetitive and time-consuming onboarding can be scheduled once. The employee, on the other hand, has a clearly presented, comprehensive onboarding plan assigned to his or her position. This eliminates the uncertainty about what the process will look like and what is expected of the employee. Clear goals and their deadlines are beneficial, especially at the beginning of a new employee's work.
2. Tests and certificates
Even the most motivated person can lose focus – regardless of whether the training course is conducted remotely or in person. In other words, the course participant doesn't always control which information is acquired. Therefore, Samelane not only verifies which courses have been retaken but also uses tests to indicate the actual level of employee knowledge. This can be a signal to the course designers which parts of the material should be emphasized in the syllabus, but it also allows the employee to review previously completed sessions. Successful acquisition of knowledge shouldn't also go unnoticed, which is why one of Samelane's functions is certification.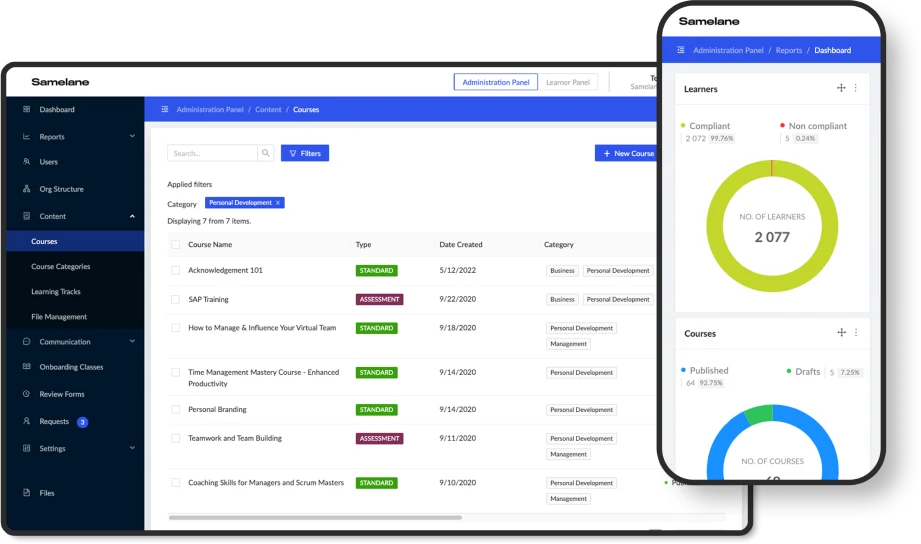 Book a demo presentation to try Samelane in action
3. AR courses
Specialist knowledge often requires particular types of teaching. When traditional courses are not effective, Samelane allows designers to create training courses utilizing AR – Augmented Reality. Using AR glasses, an employee can read instructions in the target work environment and learn how to perform specific activities. This type of training allows the company to reduce the involvement of key employees in the training of new hires. At the same time, it is certain that all information will be provided, and the system will not allow course participants to proceed to the next step without properly performing target actions.
4. Surveys
The best solutions in the organization are implemented for employees with their approval. There is no other way than to collect feedback. The organization should be aware of the staff's opinions and how it can benefit from them. This is one of the most effective ways to learn about innovative ideas and new solutions. Samelane offers a built-in survey module and gives companies the option to verify feedback after the completion of each course or learning path. This solution leads to the systematic improvement of the quality of the entire onboarding process and to efficient communication. It gives the feeling that the voice of every employee is taken into account.
5. Full availability
Samelane offers uninterrupted access to training materials 24 hours a day. This not only allows the onboarding process to be carried out in organizations operating in different time zones or working in flexible hours but makes it possible to return to relevant information at any time – regardless of the availability of specialists. As a result, the risk of error is reduced and, due to the lack of asynchronous communication, the performance of daily duties isn't impeded. Additionally, the pace of onboarding is more flexible. The acquisition of knowledge can also be individualized if there is a need for faster action from one of the teams.
Samelane has a number of functionalities allowing organizations to build an onboarding process of unique quality. It facilitates the work of both HR and administration departments, as well as relieves specialists. It is also worth remembering that onboarding is the first step in bridging the gap between what the employee knows and what the organization expects from him or her. It is a part of a larger organizational process – Learning and Development. E-learning can and should be a part of it. The implementation of an LMS during onboarding contributes not only to the process itself. It also allows employees to familiarize themselves with the tool that they will use at a later stage of functioning in the organization, during Learning & Development activities.
Sources:
The True Cost of Bad Hire, Brandon Hall Group