The changing needs of employees with regard to training and development caused many companies to implement modern educational platforms. These systems allow companies not only to centralize and share their know-how, but also to automate numerous repetitive tasks which burden HR departments. However, it all depends on the selected platform and its capabilities. What are e-learning platforms and Learning Management Systems and how do they work?
This article will explain the following:
What is a Learning Management System (LMS) and what is e-learning?
How is an e-learning platform different from an LMS?
Which solution to choose in order to support employee learning and development (L&D)?
An e-learning platform and an LMS – what's the difference
The term 'e-learning' is an extremely broad term used to describe all kinds of training and teaching materials delivered electronically. It is a very convenient and cheap form of raising professional qualifications and acquiring new competences. It is appreciated by employees for its comfort, and by businesses for its low costs. E-learning can take place anywhere and anytime.
What exactly is an e-learning platform? Although this term is often used to describe Learning Management Systems, it is not entirely correct. A corporate LMS has much more to offer than an e-learning platform, and generally has a slightly different function. An e-learning platform is nothing more than a place on the web (a website) where various training materials are made available. If you want to use them, all you have to do is visit such a page, log in to the website (if required), and select one of the available training courses from the catalog.
Although this form of sharing training materials has many advantages, it is not effective from the corporate point of view. Why? In order to effectively implement a training strategy, much more advanced functions are necessary with regard to engaging participants, establishing interactions with them, or even monitoring their progress. From the business point of view, the ability to assign training courses to individual users and automatically remind them to complete them is also extremely important in an LMS platform. This allows companies to greatly improve the training process, to significantly automate the process of onboarding, and also to quickly, and to efficiently conduct mandatory training courses (e.g. Occupational Health & Safety).
Taking into account the fact that both technology and employee training needs change very quickly, it is also important to be able to create new training courses and update the existing ones. A good quality LMS performs these tasks, as it reads many types of files (e.g. SCORM files) and allows them to be modified. More importantly, anyone can handle this task, because the use of the training wizard is simple and intuitive. An e-learning platform does not provide such functionalities – it only offers the distribution of ready-made courses and training materials.
Technavio has been monitoring the corporate e-learning market and it is poised to grow by USD 38.09 BN during 2020-2024, progressing at a CAGR of over 11% during the forecast period. (source: Technavio Research)
Advanced analytics is another important functionality of LMS platforms. While e-learning platforms often allow participants to obtain training completion certificates, they do not allow the company training department to monitor the progress made by the employees in real time. In this respect, an LMS proves its superiority once again, as it offers progress tracking at every level of aggregation – at the level of the company, an individual department, team or even employee. Consequently, it provides a lot of valuable business related information. It monitors the level of completion of individual training courses and their popularity, analyzes test results, collects feedback from participants, etc. Such data allows the training department to constantly improve the materials, identify possible competency gaps, and provide new courses, which are in line with the expectations and needs of both the employees and the company.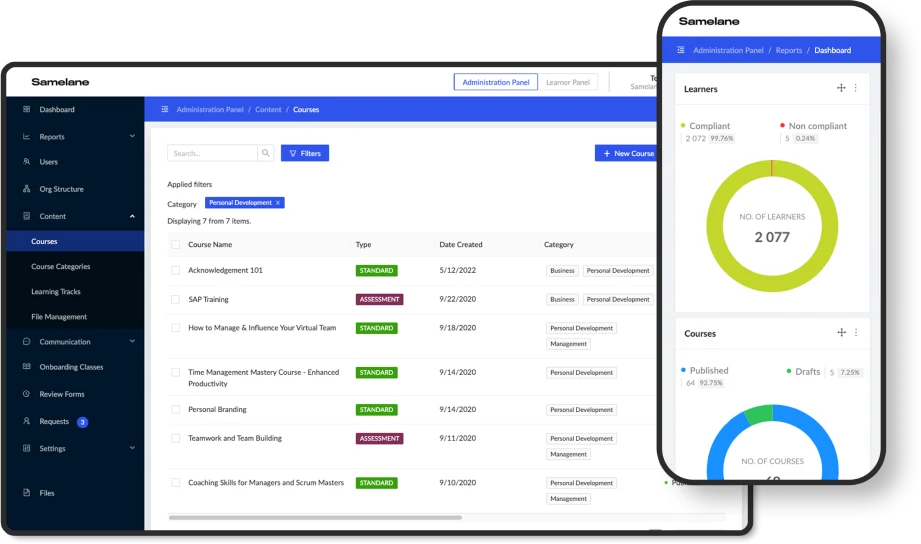 Book a demo presentation to try Samelane in action
What are e-learning platforms used for?
When deciding to use technologies which facilitate the implementation of training strategies, managers usually focus on LMS remote learning platforms. E-learning systems are not effective enough and do not offer the functionalities desired in business. However, this does not change the fact that, in many companies, they constitute a useful addition to the company's training solutions, especially from the point of view of employees. Many companies, especially technological ones, offer their employees access to external paid e-learning platforms as one of the benefits, consequently supporting their development on many different levels.
What are LMS platforms used for?
The selection of a commercial LMS should be preceded by a thorough analysis of company needs. As a result, it can become an effective way to solve many problems. For managers, investing in an LMS is, above all, an opportunity to reduce costs, improve the implementation of training policies, increase employee involvement and, consequently, their performance. An LMS is also an effective way of influencing the excessively high rate of departures because nowadays insufficient development opportunities are one of the main reasons for changing employers.
How else do organizations use Learning Management Systems (LMSs)? Mainly for the following:
automating many repetitive training tasks / HR teams;
creating unique individual interactive training courses (using various formats, including elements of augmented reality);
grouping courses into comprehensive training and certification paths;
centralizing and organizing the know-how of the company and all training materials created over time;
identifying training needs and possible competency gaps;
analyzing the level of involvement and interaction with individual courses in order to improve and modify them;
conducting surveys, initiating discussions, and collecting feedback;
increasing the level of commitment through the use of gamification elements;
shortening the time of onboarding to a minimum (this includes complex on-the-job training, which is improved by augmented reality).
Which solution to choose?
The comparison of Learning Management Systems and e-learning platforms clearly shows the advantage of LMSs. However, choosing the optimal solution is always an individual matter, depending on the needs reported by a particular company. To make the best choice, it is worth focusing on identifying key business functionalities and then selecting the right solution. Such process prevents a misguided investment which could result in a lower than expected return rate or the need to change the selected tool after just a few years.
A careful analysis before the selection process also allows companies to avoid problems resulting from misused system names. Why? Because there are LMS platforms on the market which are often referred to as e-learning platforms, and e-learning platforms which are simple tools or just websites with very limited possibilities. It is therefore smarter to disregard the nomenclature and focus on the functionalities of a particular tool – one which addresses all the current needs and, at the same time, is flexible and scalable enough to be able to grow along with the company.