Along with business growth, the recruitment of employees, their retention in the company's structures, and the effective implementation of competency development strategies become an increasing challenge for the company. A modern LMS platform can help reorganize training processes, reduce their costs, and at the same time offer employees wide developmental opportunities. How to choose the best learning management system? What factors should be considered?
This article will explain the following:
Why is investing in a Learning Management System (LMS) beneficial?
What to look for when choosing an LMS?
What functionalities should the selected LMS have?
Why could a Learning Management System (LMS) be a necessity?
Each development strategy in a company assumes its more or less dynamic growth, which is usually associated with an increasing level of employment and general operation costs. This, in turn, automatically raises a number of new challenges for any company, which include the effective implementation of employee competency development strategies (Learning & Development – L&D).
At what point in a company's growth should investing in a modern learning management system (LMS) be considered? There are at least a few factors which encourage companies to implement a remote education platform:
1. Rising training costs
Classroom training requires planning and is, unfortunately, expensive. It is necessary to hire a trainer, rent a classroom, arrange transport and accommodation, pay per diem allowance, etc. A growing scale of business means a growing demand for training, and thus a dynamic increase in costs. Properly designed e-learning training courses offer an equally high level of employee involvement, as well as high scalability – once a course is prepared, it can be successfully used for many years, and modified or updated if necessary.
2. Time-consuming training processes
Traditional training courses are not only expensive, but also very time-consuming – especially when they are organized off the premises. E-learning courses eliminate this problem. Employees can improve their competencies at a convenient time and place without having to travel and adapt to group preferences. The course can take place on the way to work, while waiting for a meeting, on a private computer, or a mobile device.
3. A large number of compulsory training
Depending on the industry in which the company operates, it may be required to periodically conduct various training sessions. Remembering about them and monitoring employees' level of completion can be tedious and time consuming. A modern LMS platform will effectively automate mandatory training, remind employees of deadlines, and enable the management to effectively monitor progress.
4. Great demand for training
The large and constantly growing demand for training is another argument in favor of investing in a learning management system. Why? With its help, new training materials can be quickly and easily created to satisfy the needs reported by individual business units. Moreover, company experts can be involved in the preparation of such materials, and thus increase the involvement of the employees.
5. High employee turnover
Ignoring the needs of employees – offering them low-quality on-boarding training and few development opportunities – is one of the most common reasons for employees to leave companies. The introduction of an LMS platform is an opportunity to offer employees many training materials along with free access to them.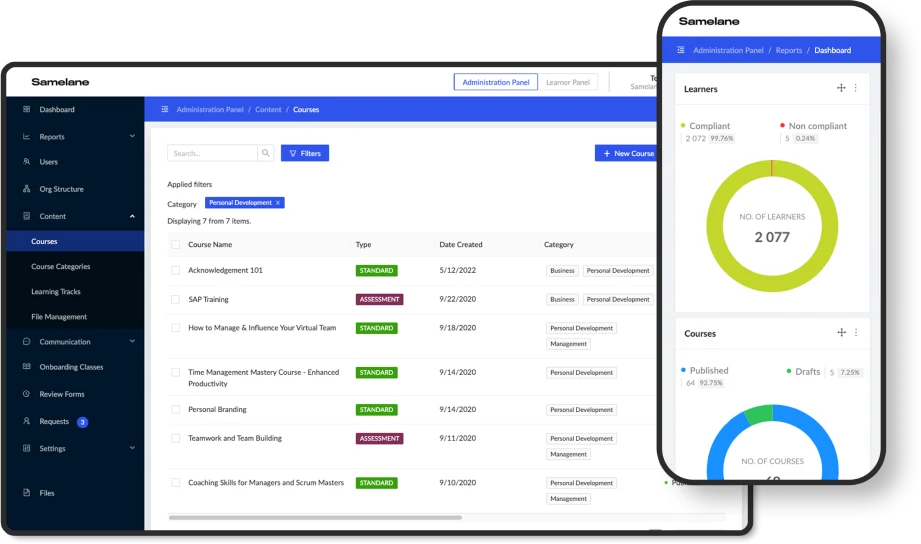 Book a demo presentation to try Samelane in action
How to choose the best e-learning platform for business
Realizing there is a need to invest in a learning management system is a very important step on the way to implementing it in the company. However, this process should be preceded by proper analyses. Each organization has slightly different needs and characteristics of operations, hence precisely defining business requirements like a marketing campaign management software is one of the conditions for the success of the entire project.
The global LMS market size is expected to grow from USD 13.4 billion in 2020 to USD 25.7 billion by 2025, at a Compound Annual Growth Rate (CAGR) of 14.0%.
It is obvious that the main goal for business is to reduce employee training costs. Each LMS available on the market today will help achieve such a generally defined goal. In order to choose the right LMS which will ensure the effective implementation of training strategies, business goals should be defined a bit more precisely, and the needs of future platform users should be taken into account. Age, current and planned level of employment, training goals, the type of training and its diversity, the level of technical advancement of the staff – all these factors should be considered when deciding on the choice of the system.
Young team members generally prefer LMSes, which enable learning in any conditions and on any devices, including mobile ones. They also have relatively big knowledge of new technologies, so there should be no major problems using the platforms. In turn, team members with lower levels of technical expertise will appreciate the ease of use and transparency. Selecting an intuitive platform is extremely important in this case, as it will allow the company to avoid the need to conduct additional training in LMS operation.
Focusing on simplicity and intuitiveness of use does not, of course, mean giving up many advanced functionalities. Samelane, despite the fact that it is lined with artificial intelligence and uses augmented reality, remains extremely easy to use – for both students and administrators.
Typical features of remote learning systems
It has already been emphasized that a remote education platform should, above all, be functional and easy to use. These are the two basic features of LMSs which have the greatest impact on the effectiveness of the company's competency development strategy. A good LMS should also offer wide possibilities of integration with other systems used by the company, for example, with the human resources system (HRIS), resource planning system (ERP software), or customer relationship management (CRM) platform.
Issues related to data security are also very important, as well as extensive reporting and progress monitoring capabilities. Access to advanced reports allows companies not only to effectively implement training policies, but also to recognize potential competency gaps or the high dependence of individual processes on individuals with key knowledge. Consequently, remedial steps can be taken.
4 factors to consider when choosing an LMS
When choosing an LMS, it is also worth paying attention to 4 essential issues:
Technical capabilities and LMS integration – the ability to design attractive and engaging courses is largely a derivative of the technological advancement of the tool used. A good LMS works with various training formats – not only audio and video files – but also provides a unique educational experience with augmented reality (AR).
Fluent communication – effective learning means not only attractive training, but also the opportunity to exchange views and share observations. An LMS should support cooperation between students, and thus engage them more strongly, as well as offer them the opportunity to submit comments and suggestions about the training itself – its form, scope or potential errors.
Personalization and branding – the ability to adapt the LMS to individual needs – including the use of brand visual identity – is a way to build commitment, consolidate brand awareness, and give materials higher credibility.
A reliable partner – when deciding to implement an LMS, it is worth betting on global platforms – those which are highly appreciated, have been positively reviewed by many different industry branches, and have proven themselves in really difficult conditions, including, for example, a slow internet connection. Samelane offers an NAS solution with local clusters which periodically consume resources, and thus allow the platform to run smoothly even in the event of network access problems.