It is no secret that investing in employee development brings tangible benefits to both parties. Thanks to the acquired knowledge and skills, employees become better, and their motivation to perform daily duties increases. At the same time, the employer gains a competitive advantage due to a more qualified team.
Enterprises invest in e-learning systems to gain greater control over the knowledge building process. Consequently, they can follow the learning process and measure the effects, which is especially important when the company is growing. LMS – or Learning Management Systems – have been known for quite a long time. However, competitive systems have appeared on the market, namely LXP – Learning Experience Platforms.
In this article, we will discuss both systems – their similarities, differences, advantages, and disadvantages. We will consider when to choose an LMS, and in which case an LXP would be optimal. Our comparison will help you decide which solution will best meet your needs and solve the problems of a particular business.
What is LMS?
LMS is a learning management system which supports online learning. It is used in particular by enterprises, organizations, or online educational platforms, but also increasingly more often by universities and schools. LMS enables employers to manage training materials and verify acquired knowledge, e.g. by conducting tests. On the other hand, the platform user can participate in selected or assigned training courses and follow his or her progress. The focus of an LMS is on course and process management.
LXP – definition
LXP (a Learning Experience Platform) is a learning platform whose functionalities focus on user experience and user comfort, and not on the management of learning as such. Due to the fact that the platform is based on artificial intelligence algorithms, it can adjust training materials to individual users. The task is achieved through collecting information about user, such as his or her position, department, experience, previous interactions with the system (completed courses, browsed categories, etc.), as well as activities undertaken by similar users.
An LXP platform sends reminders and notifications, and tries to involve the employee in the learning process to the maximal extent. It is the algorithms which adjust the developmental path, not the manager. LXP also enables interaction between website users, e.g. recommending content or discussing it. In the case of an AI-based platform, the employer has access to very detailed data. The system not only monitors completed courses but also user behavior – which courses are most popular, what comments prevail, what employees look for, when and on what devices the content was viewed, etc.
Different teaching approaches
LMS and LXP represent different approaches to managing employee training. The Learning Management System is quite traditional in this respect. Namely, it is the employer, individual managers, or HR specialists who take care of the learning process. They create courses and assign them to specific users with regard to their knowledge and experience, and not necessarily to their interests or aspirations. LMS provides a uniform teaching experience shared by a larger number of people, e.g. all employees of a given department have to undergo the same training session and have a similar developmental path in the organization.
A Learning Experience Platform puts much more control in the hands of end users. They are responsible for their learning path and the choice of appropriate training according to their preferences. They also gain rights to co-create the platform, e.g. to add valuable content from external sources, evaluate courses or recommend (or advise against) other employees. In this process, employers become mentors rather than organizers who appoint and take responsibility for the path of employee development.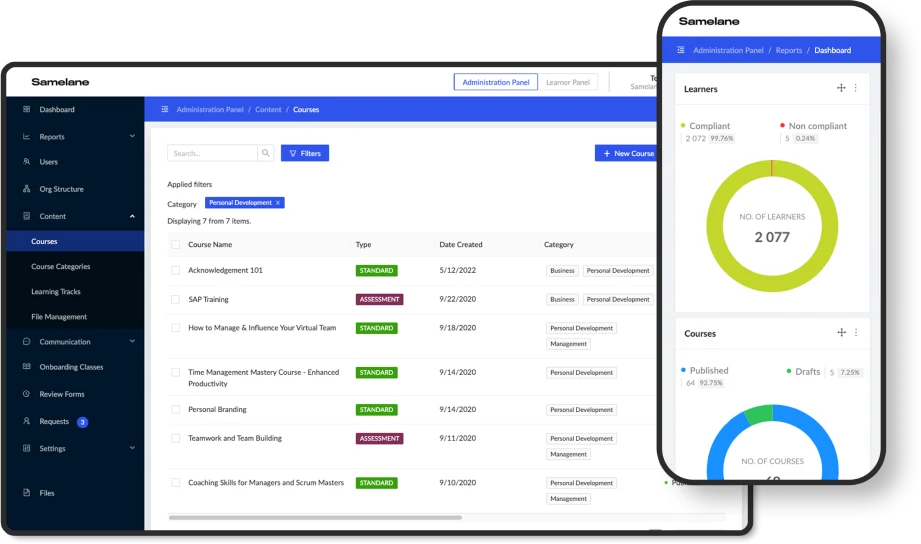 Book a demo presentation to try Samelane in action
The main differences between LMS and LXP
LMS and LXP are digital learning platforms which support companies and their employees in expanding their knowledge and skills through providing training. However, they differ on many levels, from content management to analytical approach.
The main difference is the role played by the end-user in the learning process. In the case of LMS, the user is the recipient of the content assigned to him top-down, while in LXP, the user has an active influence on the content, while his or her activity has an impact on the courses created in the future.
LMS platforms are characterized by high linearity. Their users know exactly what learning path they will follow, what their expectations are, and on what conditions they can pass to the next level in the structure. The process is predictable for both students and their superiors. LXP, on the other hand, focuses on exploring rather than following a designated path. Each user can choose a completely different learning path, which is why the process is more difficult to control if the management style favors hard data and charts. Here, many activities are not readily measurable or comparable. At the same time, it makes users more involved in the whole process by teaching what interests them.
Applications of LMS and LXP platforms
LMS platforms are perfect for training programs with a predicted, linear structure, such as employee on-boarding or legal courses. Corporations and large enterprises employing thousands of people eagerly use them. LMS platforms help them reduce training costs and easily track the progress of employees.
LXP platforms are often used by corporations in parallel with LMSs. They are also used as stand-alone systems by companies which focus on innovation and which entrust greater responsibility to their employees. LXPs are perfect for personal development, where it is important to raise the competencies selected by the participant. Such training courses include, for example, leadership or HR skills.
The e-learning market also offers training management systems designed to meet all of the above-mentioned needs. They are LMSs with full flexibility which easily adapt to specific requirements and goals. The Samelane platform is an example of such a hybrid solution. A free demo of the application is now available here.
Employee on-boarding
In the case of training which is obligatory for a big number of users or even all of them, LMS platforms are sufficient. The knowledge contained therein is necessary for the operations of the company and the functioning of its employees. These are often training sessions containing rules the employees need to know, e.g. on-boarding courses.
These training courses include topics such as health and safety, organizational structure, company strategy, applied procedures (related to document circulation or holiday reporting), or company equipment. In such cases, the time saved due to the use of an e-learning platform is significant. At the same time, the platform's functionalities will adapt to the on-boarding needs in a given organization.
The future of LXP platforms
It's impossible to say for certain whether LXP platforms are better. Both an LMS and an LXP can be a great choice for your enterprise. It all depends on what your goals, needs, structure, management method, and approach to employee development are.
There is much speculation about LXP replacing LMS in the market as the next generation of e-learning systems. However, this is only one of the possible scenarios. Another, just as likely, is that both platforms will merge or that one will absorb the other. Such forecasting is based on the notion that, for many years to come, companies will need the features of both platforms in order to function on the market.
The fact that LXP follows many trends on the market is undeniable. One of them is the customization of services and experiences. Users want unique and tailored services, and that's what they expect from learning platforms. Therefore, the popularity of experience-based systems will grow.
There is no doubt that the learning management platforms of the future will be even more strongly based on artificial intelligence and machine learning algorithms than they are today. As a result, they will provide users with unique, customized, and engaging training. Will these platforms be called LMS, LXP, or something else? Time will tell.