Technology has undoubtedly revolutionized learning methods and the way organizations implement their competency development strategies. Technology's dynamic development is synonymous not only with the development of LMS platforms themselves, but also with the possibility of creating more engaging and effective courses and complete training paths. In what direction will e-learning platforms develop? How will technology change the world of e-learning in the near future?
This article will explain the following:
What is an LXP (Learning Experience Platform)?
How does modern technology change remote education?
What are the trends in the LMS platform sector?
What is LXP?
LMS platforms have been used by companies and institutions for many years, and it is clear that they are constantly evolving. They are becoming more intuitive, effective, user-oriented and provide the most personalized and engaging training experience. LMS platforms which respond to modern market needs, focus on maximizing the benefits and experiences of students, and at the same time are intuitive and manageable not by administrators, but by users themselves, are called LXP (Learning Experience Platform).
The goals of both LMS and LXP platforms remain unchanged – to equip the employee with the necessary knowledge and competences, and to simplify the on-boarding and professional development processes as much as possible. The only difference is in the methods used. The natural path of development for any LMS system is therefore going in the direction indicated by systems classified as LXP.
It is worth mentioning that in the context of a company, simply changing remote education platforms is not enough. It is also necessary to change the training strategy to one which focuses on the employee and his or her development. An LMS is only a tool to facilitate the implementation of such strategies.
Progressive development of breakthrough technologies – AI, AR, VR and ML
In order to respond to the current needs of the dynamically changing world of e-learning, it is not only necessary to define appropriate training strategies and use effective platforms for managing the learning process, but also to prepare appropriate training materials. The time of boring presentations and long content badly suited to the needs of students is gone forever. Their place was taken by engaging content, which is more and more often created with the use of modern technologies.
The benefits of using modern technologies are multifaceted. On the one hand, technology equips the LMS platform with a number of additional functionalities, and on the other, it allows to create even more attractive and engaging courses. It is well known that the level of student involvement directly translates into the effectiveness of learning, and consequently leads to the improvement of key business indicators. It is therefore beneficial to make appropriate investments, analyze training needs, and spend time creating valuable and engaging training materials. It won't be long before satisfactory results manifest themselves.
How exactly do new technologies change the world of e-learning?
Artificial Intelligence (AI) and Machine Learning (ML) in LMS
LMS platforms lined with artificial intelligence are undoubtedly much more effective. They offer incomparably wider possibilities and, additionally, effectively reduce the costs of implementing training strategies. How do they achieve this? By automating a number of repetitive tasks burdening HR teams.
Learn more: https://samelane.com/blog/how-to-automate-hr-processes/
The use of AI in the LMS platform is beneficial from the point of view of business ownership and management, but the perspective of the students should not be forgotten. Here, too, artificial intelligence can offer a lot of advantages. The optimal adjustment of training materials to the needs of individual users is worth mentioning here. Knowing the student's needs, training goals, or the courses completed so far, the algorithm will suggest new ones that have a chance to meet his or her interests. With more data, the created model will be able to include in its suggestions not only the preferred form of training, but also the type of courses which had the best results in the past.
Artificial intelligence can also be used to analyze the progress made by a particular student or by all employees, as well as the level of mastery in specific areas or issues. Knowing which training course causes the greatest difficulties for the trainees, their designers will be able to optimize them on an ongoing basis, and, if necessary, expand them with additional modules. This way, a static LMS system changes into a platform of continuous improvement, which grows together with the users.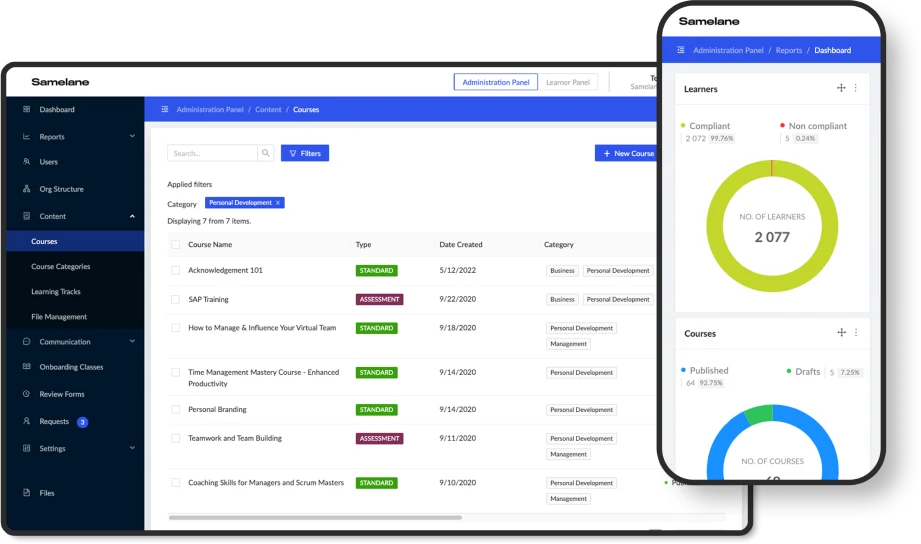 Book a demo presentation to try Samelane in action
Training in augmented, virtual and mixed reality (AR / VR)
Attractive and engaging training usually uses many different methods and formats. It can be perfectly complemented with AR, VR or MR, but the use of those technologies is largely determined by the LMS platform used in the company. Therefore, this criterion is worth taking into account when analyzing the decision to buy or change an LMS.
Augmented Reality (AR) is a powerful technology which was considered a breakthrough for the training industry when the game Pokémon Go appeared on the market. It already revolutionized training processes in many companies, providing unique and interactive experiences previously associated only with the world of computer games.
Virtual reality (VR) is nothing more than an image of artificial reality created due to information technology (representing the real world or a fictional one), which can be used in many different ways in the training process. It is perfect, for example, when on-boarding new employees (complex position and on-the-job training).
Mixed reality (MR) – often called hybrid reality – is a relatively new technology that combines the reality that surrounds us with virtual objects. Its application in the world of e-learning is not widespread yet, but there are many indications that this will change in the near future.
Video content has consistently enjoyed great interest in the creation of training materials for years, and this is unlikely to change in the coming months. However, the way it is used will. Video files passively watched by the student will be replaced with interactive content motivating students to engage further.
Course designers will have the possibility to embed additional content in a video file (e.g. links or images), or use tests to check the acquired knowledge or the understanding of a specific issue, while the participants will be able to create their own educational paths by selecting one of several possible scenarios (including negative ones, which allow students to familiarize themselves with the consequences of their decisions).
Firstly – mobile devices
The growing importance of mobile devices in competence development has been observed for years and there is no indication that this situation will change in the near future. On the contrary – many experts predict that this trend will continue in the coming years, and this, in turn, will require the authors of e-learning courses to change their current approach to their design.
Until now, the priority in most companies was to design training courses for computer users, and later to modify and adapt them to use on mobile devices. Recently, many organizations have decided to reverse this traditional order and to begin with courses created for mobile devices and, in the following steps and if need be, to adapt them to use on computers.
The mobile learning market was valued at $ 27.32 billion in 2019. It is predicted that by 2027 it will reach $ 280.08 billion.

Global Mobile Learning Market 2020-2027, Verified Market Research
Such a solution will undoubtedly contribute to the improvement of the quality of mobile experience, it will positively affect the level of participant involvement, and enable them to develop their competences in the most convenient place and time. This is especially important in today's reality, when many organizations still work in remote mode and are considering either staying in it in the coming years, or switching to a hybrid mode.
Integration and personalization
In the context of trends and changes regarding LMS platforms and the courses themselves, it is crucial to mention the increasing importance of personalization and the broadly understood integration of the learning process with the work process. According to experts, the process of improving qualifications should definitely move away from the static courses and training paths available in LMS systems and shift to integration with the current skills and knowledge of each employee.
This means an even more precise analysis of the employee competencies and performance in order to dynamically suggest appropriate training and conduct more detailed research of its impact on the improvement of key business indicators. Due to the use of AI, the implementation of such a scenario is very real. Lined with artificial intelligence, an LMS can actively respond to the changing educational needs of each user and intelligently adapt to their needs and expectations. By acting in this manner, it is possible not only to significantly increase the level of participant involvement, but also to offer users the most personalized learning experience.