The progressive development of technology – including artificial intelligence – and the greater availability of advanced IT systems dedicated to HR processes encourage companies to automate and thus improve the efficiency of recruitment and human resource management. What processes are worth automating nowadays? How does artificial intelligence change and improve the operation of HR departments?
Typical tasks of HR departments
We often underestimate the importance of HR departments and reduce their role only to recruitment, but reality shows that they are some of the most important pillars of any company. Any company primarily consists of people, their competencies, and potential. Therefore, skillful and thoughtful management of human resources is nowadays a key factor in the success of any organization. Without an HR department and the appropriate competencies of its employees, the implementation of a winning strategy is practically impossible.
Although it cannot be denied that a significant part of HR work time is spent on searching for suitable candidates, conducting interviews, and managing the entire recruitment process, the scope of their responsibilities is much wider. It includes, for example, building the image of the organization as an attractive employer (Employer Branding), effective employee motivation, creating and implementing a training and onboarding policy, shaping the desired organizational culture, identifying essential employees who are essential to the organization – and those who are its weakest link – and issuing consequent business recommendations.
All the tasks listed above are part of the so-called soft HR. Hard HR, on the other hand, covers broadly understood tasks in the field of human resources and payroll, i.e. activities related to the preparation of contracts, calculating remuneration, settling holidays, resolving any disputes, and ensuring that all personnel policies are in accordance with applicable law.
How to automate repetitive tasks in HR?
Many tasks in the field of human resource management undoubtedly require experience, appropriate competencies, and a thorough understanding of the current and future needs of the company, and thus there is no way to fully automate them. New technologies and artificial intelligence, however, can be perfect wherever there are repetitive and routine tasks which can be relatively easily "translated" into rules easy to understand for a robot or an algorithm. What specific tasks are we talking about?
An excellent example would be the automation of document flow. HR departments in large organizations process huge numbers of contracts, forms, and applications every day – we are talking about both recruitment and payroll documents. Analyzing them and then transferring them to the company's IT systems not only takes a lot of time but also carries the risk of human error. By automating this process, companies can not only improve its efficiency and generate measurable savings but also effectively mitigate risks.
Autoresponders are also commonly used solutions which automate the work of HR departments. We are, of course, talking about automatically sent emails at various stages of the recruitment process – confirming the reception of applications, informing about the next steps, or thanking for participation in the process. Solutions which automate the selection of candidates for specific positions are less common, but this is likely to change in the near future.
A Learning Management System platform is, beyond question, another important tool automating HR work. LMS allows you to effectively automate processes related to onboarding new employees and increasing the competencies of current ones. It is also a way to efficiently conduct compulsory training sessions (e.g. health and safety courses), monitor the level of training completion, identify competency gaps in the company, as well as conduct various surveys among employees. Thanks to automatic training allocation rules, each new employee is automatically assigned an appropriate set of courses and even reminded to retake them after a specified period of time (e.g. after a year). Consequently, on-boarding processes will be much shorter and more effective.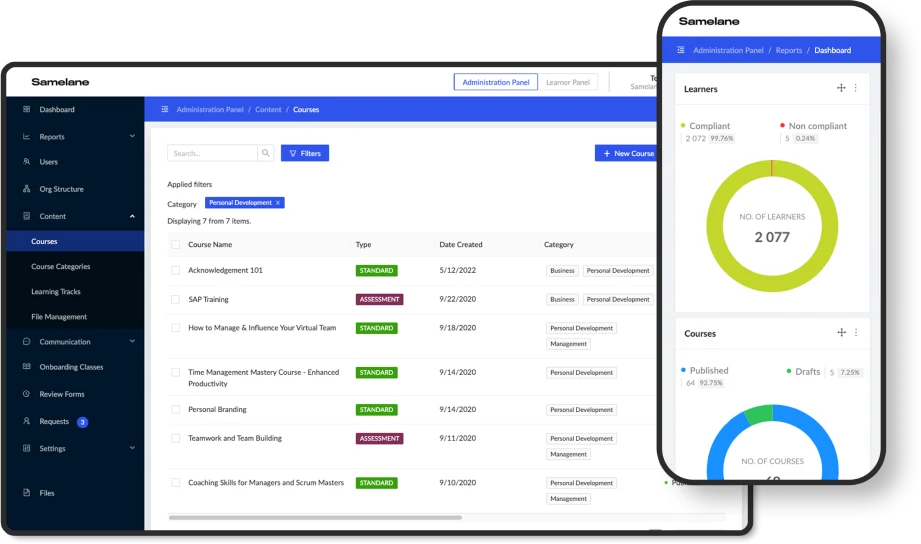 Book a demo presentation to try Samelane in action
The application of AI in HR departments
Modern technologies increasingly influence the functioning of companies and permanently change the way they operate. This revolution also affects HR departments, where artificial intelligence is already widely used today. It is applied, for example, in the above-mentioned process of selecting candidates for particular positions. Modern tools are already able to effectively scan the content of advertisements, then search for specific keywords in the company's CV databases, and on this basis identify the most suitable candidates. Such solutions can operate on a much larger scale and look for candidates not only in the company's resources but also external sources – e.g. websites for professionals, such as Linkedin. They can also analyze the content of reference letters and materials provided by potential candidates on social media.
Artificial intelligence, and more precisely OCR (Optical Character Recognition) mechanisms can also work perfectly in the context of document flow automation in the company. This technology makes it possible to read the content of scanned files (e.g. ID cards or passports), and thus enables the automatic input of personal data into corporate HR and payroll systems. This not only saves employees a lot of time but also allows companies to minimize the risk of possible errors.
Chatbots, which have been gaining popularity for years, are a slightly different, but no less interesting example of the use of artificial intelligence in HR. Every day, the employees of HR departments receive dozens of questions, most of which are repetitive and with regard to benefits, remuneration policies, holidays, labor law, etc. Considering the above, an increasing number of companies, in particular those employing numerous employees, decides to implement chatbots. They effectively free the resources of HR departments and allow them to be focused on other processes – ones more crucial for the company, but lacking a sufficient potential for automation.
What changes can employees of HR departments expect?
On the one hand, process automation in HR is an opportunity to significantly improve work efficiency, and on the other hand, to reduce the risk of human error, which is highly probable in monotonous tasks requiring extreme precision. Therefore, no one should be surprised that the constantly evolving technology and modern IT systems, designed with HR departments in mind, may cause concern among specialists dealing with recruitment and human resource management. Are their fears justified? It's undeniable that, since automation frees resources, it creates room for redundancy, but this happens relatively rarely. Most often, a technological revolution in a company leads to a change in the current nature of the HR department's work.
Tedious and repetitive tasks are most often processes which cannot simply be abandoned. The manual performance of these tasks takes place at the expense of more creative ones. Therefore, one can risk saying that automation has a positive effect on shaping the duties of HR employees, making their work more creative and demanding, and consequently much more satisfying. Humans will not be completely eliminated from decision-making processes for a long time, and their role will still remain essential in shaping the recruitment, training, and motivational strategy. It will also be difficult to replace the human factor in the recruitment and assessment processes. Computers and properly designed IT systems will increasingly facilitate the performance of all these tasks, but they will not be able to completely replace humans.