The pandemic is a considerably challenging time for all companies, regardless of the industry or team size. Unfortunately, nothing suggests that the situation will soon return to normal. Wherever positions do not require physical presence in the company, remote work is introduced. We agree to certain inconveniences for the benefit of the public, but more and more often we also start to notice the advantages of work from home.
However, there is one important aspect of working from home that we seem to often forget – training. In the era of working from home, employers postpone courses or workshops waiting for the epidemiological situation to improve. They forget that training employees is a key factor in building corporate capital and knowledge in an organization. Since the vast majority of training sessions and stationary courses – internal or external – have ceased to take place, then how to make employees broaden their knowledge while working from home? How to keep them motivated to learn and to work despite difficult circumstances? We suggest tools and technological solutions which will facilitate this task, i.e. online training platforms.
The characteristics of working from home
Work from home (WFH) is associated primarily with challenges such as distraction caused by other household members, the lack of suitable working conditions, a poor internet connection, or the negative effects of isolation.
It may come as a surprise that most research available at the moment shows that white collar workers work more effectively at WFH. This is due to several reasons: shorter lunch breaks, fewer sick leaves, limited number of business meetings, or their significant shortening. Time spent on commuting is now often spent on effective work.
Another positive aspect is taking more responsibility for your work in the Covid-19 era. This applies to the responsibility for tasks, the schedule, or the company, and thus a greater sense of meaning with relation to work, which may even result in undertaking tasks which are not formally part of an employee's duties.
One of the challenges awaiting employers in the coming months is certainly skillful motivation and team spirit building. When employee relations are built via a computer, proper software solutions must also be provided.
Challenges caused by LFH
Learning from Home (LFH) is an important aspect of having employees work remotely. In particular, because in these special conditions they have no chance to learn from other, more experienced people, by observing them at work.
In addition to the challenges discussed in the previous section, overwork is often the cause of reluctance to distance learning. This is due to the lack of work-life balance and the fact that working from home might seem endless. The lack of interaction with other training participants may also be demotivating. The opportunity to meet new people inside or outside the company has always been a huge advantage of stationary courses, sometimes treated equally seriously as gaining knowledge. In live online training, technical issues, such as a poor internet connection at home, can be a barrier making learning ineffective and frustrating.
Therefore, learning from home requires additional involvement from the employer or HR departments. Learning management systems (LMS) can provide special support in the remote training process.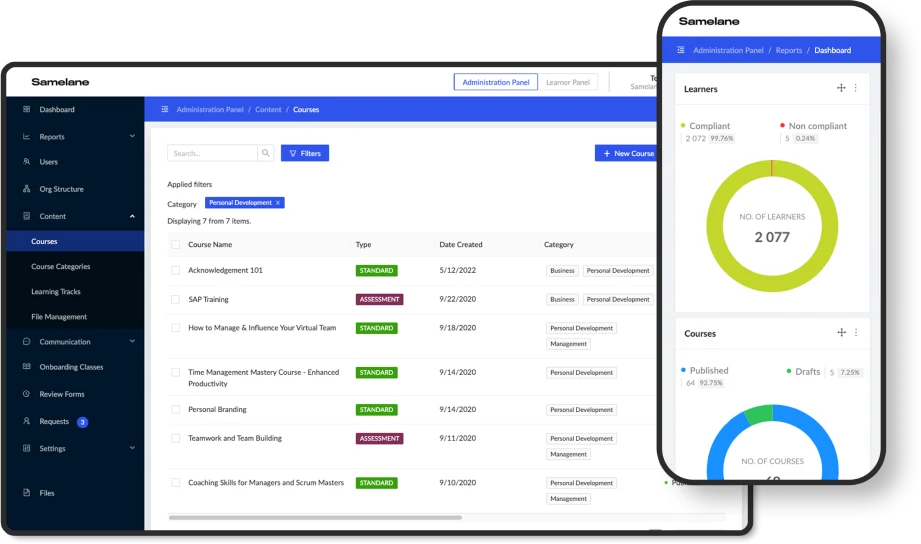 Book a demo presentation to try Samelane in action
How to increase the effectiveness of home learning?
The recipe for home-based learning – and for tackling all the challenges mentioned above – are digital learning platforms, i.e. e-LfH Learning Management Systems. However, the tool itself is not everything, so we want to suggest what LMS functionalities can be useful in motivating employees to expand their knowledge.
Goal setting
Employees can set goals on their own or together with the manager. Goals can also be set top-down, for example each employee has to complete two courses every six months. Goals can be set monthly, quarterly, or annually, whichever is more convenient for you and your employees. Enabled notifications also play a huge role in motivating, as they remind users about the beginning of the course, about the deadline for completing tasks, or about the need to score a predetermined number of points. Thanks to the learning management system, notifications will be sent automatically instead of involving the superiors.
Effective information retrieval
Finding the right content in a large number of training materials can be frustrating, to say the least. Failure to find the right information causes employees to quickly abandon their search, especially if the material is gathered in many different formats. Thanks to platforms augmented with artificial intelligence, searching becomes easy and precise. This is because it is the system, not the user, which is responsible for analyzing and understanding all the courses available on the training platform – be it text, audio, or video – and then delivering precise answers to queries. Consequently, whenever specific information is needed or employees want to refresh previously acquired knowledge on a specific topic, they can do it without wasting time and energy on excessive searches.
Flexibility
Working from home is more flexible, and learning must be too. Therefore, a platform with 24/7 training offers a huge advantage over regular courses taking place in real time. This way, the system adapts to the employees, to their work mode and timetables. Training in this form is easier to integrate into the daily schedule, and it can also be paused at any time and completed at a convenient moment.
Awards
We like to compete, win, and receive rewards. Prizes and achievements can be effective engines for expanding knowledge in a company. E-learning platforms allow users to obtain certificates, badges, or points for completed courses. They can be also converted into bonuses or material prizes, but they do not have to – the achievements themselves and the opportunity to show them off can also motivate.
Elements of gamification
The competition mechanism can also be applied by including elements of gamification in the e-learning process. Employees can race as a team – motivating each other – but also alone, by earning points, badge, or moving to the next levels on the platform. Introducing gamification into the learning process serves two purposes: increasing knowledge and deepening ties within a group.
Human touch
Due to the use of educational platforms augmented with artificial intelligence (AI Learning Platform), users can experience a substitute for a relationship with the teacher. The course reminders sent by the platform and messages expressing concern for learning (You've been away for a long time…, How can we help you? Do you remember you only have 2 days to complete the course?) are just some examples of how employees can be effectively motivated in a completely automated and caring manner.
Early response
Taking care of hundreds or thousands of people in the company, it is difficult to react quickly when something disturbing happens. Thanks to the support of artificial intelligence and the reporting function, it is easy to quickly notice areas or departments which require special attention and care, e.g. departments with lowered results or employees who stopped developing during WFH.
Team-building
In addition to providing a platform for building, sharing, and tracking courses, AI learning platforms are used to build relationships and motivate employees, no matter what the conditions. Due to mechanisms such as gamification, employees share goals and reasons to communicate with one another more often. Consequently, they also become more effective in everyday tasks as a team.
Available learning platforms
If you want your business to start reaping the benefits of using an AI Learning Platform, you have two options – and we can help you with both. The first solution is creating your own training platform from scratch. This solution mainly applies to very unusual requirements regarding the courses themselves or the existing infrastructure.
The other choice is to use already existing solutions and adjust them to your own needs. In most cases, this is the optimal scenario, as it is much faster and definitely cheaper than building an e-learning platform from scratch. We have created the best learning management system – Samelane. It is a solution for all modern enterprises, not only in the times of a pandemic. It allows you to manage the entire process of employee training – from creating courses to monitoring effects and reporting results. A free demo of the product can be downloaded to try Samelane in action.
The future of e-learning platforms
Admittedly, the Covid-19 pandemic has accelerated the growth of the e-learning industry.
On the one hand, widespread and long-lasting work from home (and the lack of prospects for a quick return to the office) forced the digitization of courses. On the other hand, it has made it possible to convince even the most reluctant people that digital transformation is the only right path. Employees had to break the first barrier of fear of processes transferred to the online world – meetings, webinars, or training sessions.
Companies will undoubtedly invest more and more in LMS solutions. The use of e-learning platforms has always brought both tangible profits and huge savings compared to stationary training sessions. Due to the pandemic, more companies have dared to try this type of technological solutions and we are certain that they will stop using them after Covid-19.
In our opinion, the recipe for switching employees to remote learning is simple – give them an effective, flexible, accessible, but above all motivating learning tool.