A modern Learning Management System is, on the one hand, an effective way to develop the employees competencies, and, on the other hand, an extremely effective tool for implementing training policies. It also allows companies to automate many repetitive tasks burdening HR teams. What other reasons are there for investing in a Learning Management System (LMS)? What features of LMS platforms are worth paying special attention to when selecting software for your company?
This article will explain the following:
1) What are the advantages of LMS systems?
2) What benefits can such platforms provide for the company?
3) Where does a modern Learning Management System function best?
Why is using learning management systems advantageous?
Achieving a certain scale of business means facing challenges that have not caused any major problems before. As an example, one could mention an increased level of employment, and thus the need to develop more effective methods of managing the team, its competences and the know-how of the entire organization. Creating a competency management strategy is, without a doubt, a difficult task, but its effective implementation is a much greater challenge.
How to deal with this problem? A modern LMS system can certainly help, as it will allow companies to transfer traditional training to the online world, and consequently reduce the cost of learning and the time necessary to improve qualifications. What's more, a remote education platform will largely automate repetitive HR tasks, enable training learner progress tracking, and identify possible competency gaps.
Which organizations benefit most from the use of LMS?
E-learning platforms are universal IT solutions widely used today. They are used primarily by companies, but there are also many schools and universities among their users. Therefore, it can be stated that remote education platforms are a perfect solution wherever there is a high demand for training courses and where, for various reasons, it is justified to provide them remotely.
Companies are by far the largest group of LMS users and there is no indication that this trend will change any time soon. On the contrary, while initially remote education platforms were used primarily by large organizations incurring huge costs related to employee training, nowadays smaller entities also choose LMS platforms. What prompts companies to invest in LMS? First of all, potential savings, the possibility to shorten the training process to a minimum, and a chance to automate many HR processes. Other equally important reasons include the changing needs of the employees themselves, who expect their employers not only to provide wide opportunities to improve competencies, but also to design them in a convenient form. In the times of increased demand for remote and hybrid work models, e-learning is becoming a necessity. The growing interest in LMS platforms should therefore come as no surprise to anyone.
"Live as if you were to die tomorrow. Learn as if you were to live forever."

– Mahatma Gandhi –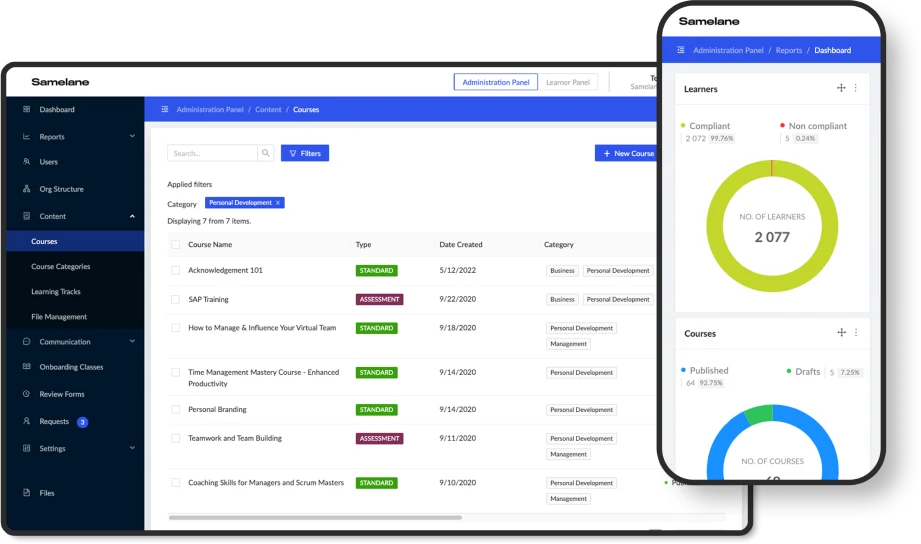 Book a demo presentation to try Samelane in action
The main advantages of an LMS
Introducing a remote education platform provides numerous advantages for the company, as well as for the employees themselves. The most important benefits include the following:
Saving time and money – transferring classroom training to the online world generates huge savings for the company, both in terms of money and time. Organizing stationary training requires long planning and incurs considerable costs related to, for example, business trips, hiring a trainer, etc. E-learning training courses are incomparably cheaper, and also scalable – once a course is prepared, it can be used for many years. What's more, anyone interested in it will be able to return to it at any time and review the relevant material.
Centralized training materials – in any large company, the business know-how is largely dispersed. It includes many procedures, instructions, or descriptions of machine and system operations, various recordings, or training presentations of assorted content. It also happens that a large part of the knowledge is unwritten and, what is worse, remains in the hands of one person. Such a situation creates a significant risk to maintaining business continuity in the event of this specialist's departure from the company. An investment in an LMS is an opportunity to organize and centralize the knowledge available in the entire company in one place, and, consequently, to verify, update and supplement it.
Greater availability of training – centralizing the know-how of a company in one place is one thing, and universal access to it is another – regardless of the type of device, the location, or time. An LMS provides users with access to training materials at any time, both from the office and from any other location. Therefore, there is nothing to prevent the employees from gaining new competences during business trips, on the way to meetings, or on their way home.
Task automation – a remote education platform is also an effective way of relieving the workload of the HR team. This is due to the possibility of creating automatic rules for assigning training courses to employees, automatically sending reminders about the need to complete courses, as well as tracking the ongoing progress. How does it work in practice? An LMS can automatically assign a set of introductory training sessions to each new employee, provide the entire company with mandatory training (e.g. OHS), and remind employees to review it with proper frequency. Automated reporting allows management to monitor the current level of completion for individual courses and identify possible problems.
Improved cooperation and greater involvement – despite transferring education to the online world, a remote education system does not make the cooperation between participants of individual courses impossible, nor does it automatically decrease involvement. On the contrary, a modern LMS encourages discussion and allows course participants to share their observations on the issues discussed or on the form of the training itself. In turn, this high level of involvement ensures high training interactivity – i.e. the possibility to use quizzes and tests; various types of educational materials, e.g. audio and video files; and even elements of augmented reality (AR). All these factors offer participants unique educational experiences.
Other noteworthy features of e-learning platforms
The effective implementation of a competency development strategy requires the use of a modern LMS platform – one which offers a sufficiently wide range of functionalities. What is important when choosing a platform? The possibility to use various file formats is definitely important, as it significantly affects the effectiveness of the courses and their reception by the users. The very process of designing training courses and editing the existing ones is also very important – using an LMS platform should be as intuitive as possible.
In addition, any modern Learning Management System should be fast and reliable – i.e. allow smooth operations even when the user has a slow internet connection (Samelane provides a NAS solution with local clusters for periodic download of resources). The aspect of multilingualism is also worth paying attention, as it allows every employee to use it. Additionally, the platform should offer personalization and branding, due to which all the designed training materials will perfectly match the company's visual identity.