Regardless of the industry in which you operate or the current level of employment, you certainly assume more or less dynamic growth in your strategy. Business development raises a number of challenges on many levels and includes the training policy. Why? It is necessary to train new employees, provide an appropriate system infrastructure, and create additional courses and training paths which correspond to the changing needs of the company. Will your LMS cope with the significant increase in user number and training materials? Is it scalable enough?
This article will explain the following:
What is the importance of a highly scalable LMS for business?
How to verify that an LMS can cope with an increased number of students or courses?
What is a scalable remote education platform?
Scalability of an e-learning platform – what does it mean?
The implementation of a remote learning platform (LMS) in an organization is, or always should be, preceded by a thorough business analysis. At this stage, company needs are assessed, and then a solution is searched for which best addresses them. A common mistake is to completely omit the goals of the company's development strategy when formulating the requirements. Why is it essential? The implementation of an LMS requires the involvement of many people, much time and relatively considerable costs. Therefore, it is worth ensuring that this investment has a chance to benefit the company as much as possible. A properly selected LMS should meet both the current and future needs of the organization. It should be flexible, effective and highly scalable.
The scalability of a remote learning platform is nothing more than its growth along with the growth of the company. To put simply, it is the ability to respond to changing business needs, i.e. the need to train more employees, offer more training materials, and process larger volumes of data.
Why is scalability so important in employee training?
It is obvious that as the company grows, the challenges an LMS platform faces will increase as well. It is thus necessary to make sure that the system can cope with a situation when the number of its users grows even several times, and the demand for new courses and dedicated training paths increases accordingly.
The development of the company often entails the need to reorganize its structure – to create new departments or specialized units. A scalable e-learning platform should offer the ability to add new departments and enable reporting at every level relevant to business.
In order to successfully implement a training strategy, it is important, on the one hand, to provide employees with the necessary knowledge or additional development opportunities, while on the other hand to keep track of the progress made, recognize the need for additional online training, and identify potential competency gaps in individual teams or departments. As a result, huge amounts of data need to be collected and processed. Data collection and processing are therefore two extremely important factors that should be taken into account.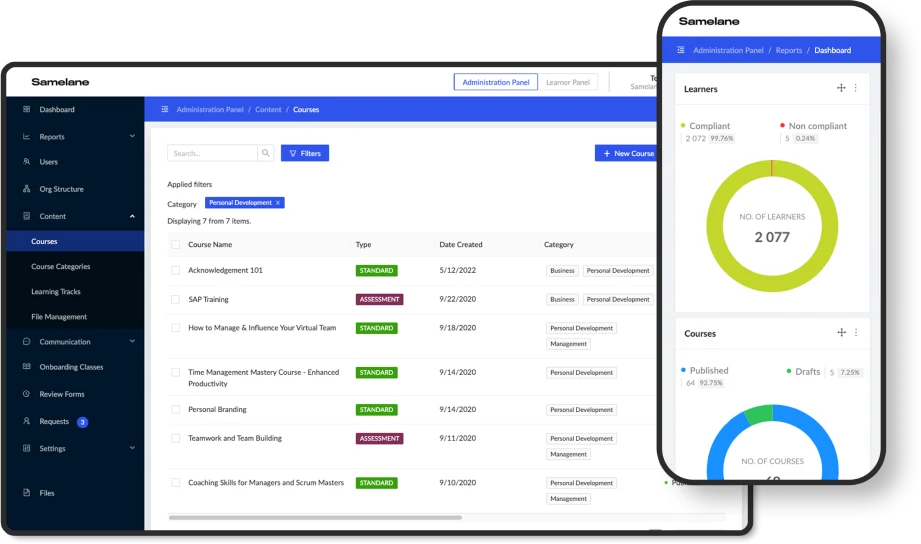 Book a demo presentation to try Samelane in action
How to choose an LMS?
When choosing an e-learning platform for business and analyzing its scalability, the following factors, among others, should be considered:
the ability to manage large volumes of data;
the ability to service a large number of users who use the platform at the same time and connect to it through different devices;
flexible billing models;
the ability to create any number of new courses, training paths and departments;
advanced reporting capabilities, which are usually a challenge with a growing number of users and an extensive organizational structure;
the ability to ensure the highest level of security regardless of the number of users and the volume of data processed.
An LMS adapting to the company's changing needs is, on the one hand, an effective tool for implementing training strategies, and, on the other hand, a means to achieve considerable savings. A wrong choice of a platform and the need to change it after just a few years generates additional and unnecessary costs associated with re-analyzing the needs, implementing the tool, and the huge effort of the training team to transfer the courses onto the new platform. It may happen that the courses will require a significant redesign to be adapted to the new platform. It may also be necessary to train future users of the platform in its usage.
The choice of a scalable platform should therefore not be considered an alternative, but a necessity. Such a choice is economically justified today and allows managers to fully concentrate on implementing the company's development strategy.
Fully scalable LMS
If you are at the stage of searching for a scalable LMS which will allow you to automate employee training and the repetitive tasks of the HR department, consider Samelane. Our platform is extremely flexible, so it can be successfully adapted to the current and future needs of your company. Why should you choose Samelane?
Unlimited number of users – our platform is perfect for both small enterprises and large international corporations (at Comcast, Samelane is used by as many as 60 thousand users). We offer an extremely flexible billing model to meet your business needs – several predefined packages and the Pay as You Go model, which allows you to pay for each platform user. No matter what stage of development your company is currently at, Samelane will adapt to your needs.
Unlimited number of courses – we are aware of the importance of employee competency development and the great demand for training materials by your organization. Therefore, we do not apply any restrictions on the number of training courses. Consequently, you can safely create new courses or import them from other systems, and thus create an extremely rich and diverse catalog of courses for your employees.
Unlimited number of departments – a complex organizational structure often requires dedicated training for individual groups or teams. Samelane is extremely flexible in this respect, so you can easily map the current company structure, assign training courses to specific groups of employees, and report the results at all levels relevant to you.
Accurate reporting – many users of the LMS platform translate into large amounts of data on their behavior, started and completed courses, comments, feedback, etc. Armed with artificial intelligence, Samelane is perfect for processing large amounts of data and creating transparent reports answering questions asked by the management.
To learn about all the other advantages of Samelane and find out about the available billing models, contact us or see the price list.