Employee experience is a concept referring to the entirety of employee experience in a given organization. By designing high-quality processes, companies can gain a huge market advantage and stay ahead of the competition in the fight to obtain talent. However, it is worth knowing what to pay attention to when building employee experience and how to permanently improve staff quality in the organization.
This article will explain the following:
What is employee experience and what does it consist of?
What are the benefits of high-quality processes related to employee experience?
Which points of contact with the company are key in the employee life cycle and what to pay attention to when designing them?
How does an LMS platform bring value to the organization with regard to employee experience?
What is employee experience?
The concept of employee experience is the sum of experiences and impressions that arose as a result of employee contact with the organization. Employee experience is formed during recruitment; work in the company; participation in its policies and processes; use of tools; contact with superiors, management, subordinates, and colleagues. In other words, it's any situation that translates into building an opinion and an emotional relationship with the employer.
By systematizing the above areas, three categories affecting employee experience can be listed:
Physical environment – workspace, office facilities and supplies, available equipment, etc.
Tools and technologies provided by the employer.
Organizational culture – beliefs, behavior, and habits in a given company. In this regard, the approach to work and employees is particularly important, especially formal and informal policies and procedures related to, among others, development, commitment, health, and satisfaction.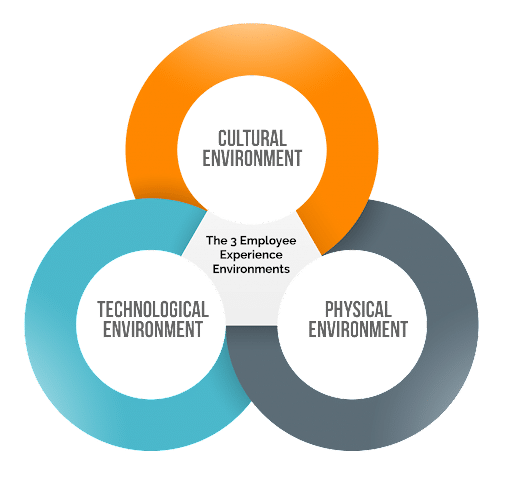 Why is employee experience so important?
Creating a coherent and positively perceived environment – including its physical, cultural, and technological aspects – leads to the formation of an attractive workplace in a given market. Such an achievement brings a number of benefits, including:
Attracting talent. Nowadays, companies have to struggle for talent. According to the calculations of the World Economic Forum, by 2030, as many as 72 million skilled workers may be lacking in Europe and the United States – talent is a desired and scarce commodity. [1] In such a situation, a company that attracts specialists and which is their first choice of employment gains a strategic market advantage.
Retaining the best employees. Positive experiences allow companies to retain specialists and build up their commitment, i.e. energy and effort they bring to work every day. This is especially true of high achievers, who are usually especially appreciated and have a greater impact on the entire organization.
Achieving results. Creating a good team characterized by commitment, loyalty, and high efficiency translates into achieving company goals. Moreover, when specialists function in a positive environment (understood as the three aspects described above), they show greater creativity in finding solutions to problems and they often contribute to the company's success beyond the expectations of the management.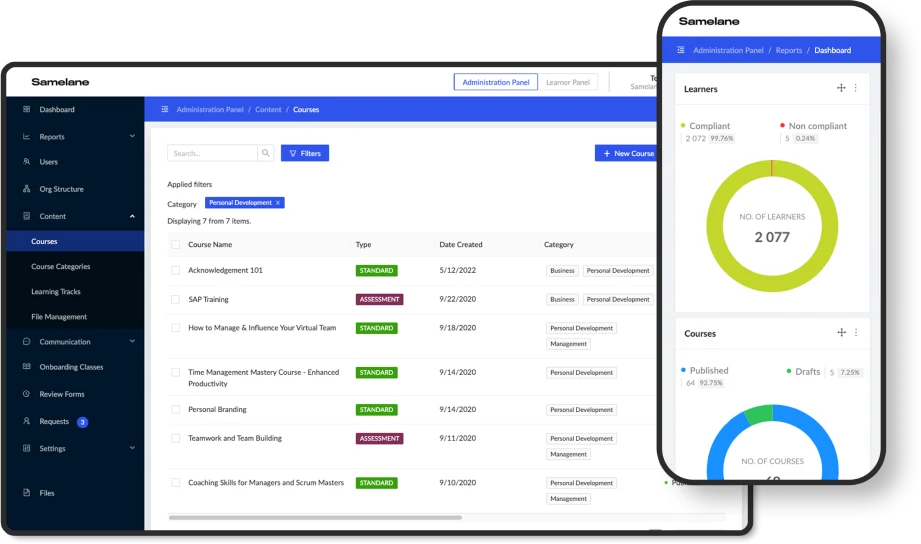 Book a demo presentation to try Samelane in action
How to improve employee experience?
When building positive experiences in an organization, it is necessary to take care of the entire life cycle of an employee, i.e. each of the three areas that constitute it. This means that, on the one hand, it is necessary to ensure the consistency of employee experience processes with candidate experience so as to ensure that the image of the company and its offer are truly attractive and that there is no disappointment after joining the organization. The integrity of customer experience is important, too. After all, a customer can become an employee, and an employee – a customer.
On the other hand, the employee's experience should be comprehensively designed – from onboarding to offboarding. Employee experiences include areas such as:
Recruitment and employment
Onboarding
Benefits
Employee appreciation
Company culture
Employee commitment
Diversity and integration
Company restructuring
Positive employee experience can be achieved by building an environment which puts emphasis on the four following elements:1.
1. Relationships
They consist in building relationships between the employee and his colleagues and superiors, as well as establishing contacts outside the team. However, relationships aren't just about people. It is worth ensuring that employees can identify with the mission, values, and goals of the company.
2. Performance
It's about creating an environment in which the employee clearly understands what he or she needs to do to be successful. It allows employees to feel the purpose of the duties performed.
3. Appreciation
It is creating the feeling that the performed work makes sense and carries value. Both the daily work and the contribution made to the organization as a whole should be noted.
4. Development
It is understood as an opportunity to learn, receive continuous feedback, and get support in career development – both with regard to short- and long-term goals.
Improve employee experience with an LMS
Organizations looking for support in building positive employee experiences more and more often employ tools intended for these purposes. An employee experience platform is an effective solution, though most of them are based on benefits and kudos. This, of course, has a positive effect on employee commitment, but it doesn't provide a holistic approach to the issue at hand. Therefore, it is considering a Learning Management System (an LMS). It allows companies to manage employee experience at various stages of their life cycle in the organization.
1. Recruitment
At this stage, an LMS allows companies to prepare competency tests for candidates and to verify their skills. This improves the recruitment processes and optimizes candidate experience.
2. Onboarding
E-learning simplifies educational paths and tests necessary in the organization. For example, learning tracks are particular paths that a new employee has to go through in order to quickly start working in the company.
3. Learning and development
A Learning Management System can be used to set new challenges and assign courses as part of the development strategy while, at the same time, ensuring a positive digital experience for employees. They do not have to physically appear on site, but just follow notifications about courses available to them. E-learning makes courses available from anywhere, regardless of work mode.
4. Appreciation
E-learning platforms allow companies to immediately and automatically recognize employee results and issue certificates after course completion. They also offer access to real-time and historical progress data and are able to generate reports, which allows companies to reward the best performers, also at the corporate level. Moreover, e-learning platforms contribute to the organizational culture by promoting desired behavior and setting ambitious development goals.
Sources:
Rasmus Ankersen "Kopalnie talentów"