A modern Learning Management System offers wide possibilities in terms of creating engaging training courses, but also regarding their availability on all devices – not only computers, but also mobile devices, which are indispensable in modern lifestyle. What is m-learning and how does it affect competence improvement strategies in organizations?
This article will explain the following:
What is mobile learning?
How does m-learning influence training programs?
How to prepare m-learning training content?
M-learning – definition
M-learning is an abbreviation of mobile learning, namely a form of remote learning that requires the use of a mobile device, e.g. a phone or a tablet. Mobile learning has been gaining in importance for years and is now increasingly replacing e-learning. Convenience and almost unlimited availability are the prime reasons. The necessary training materials can be used in any situation and in any place. The trainee only needs a smartphone to launch the desired courses or other educational materials made available on an educational platform or in the company's Learning Management System (LMS).
Thanks to m-learning, improving competencies has become incredibly simple and convenient. It is possible to undergo training in situations that are usually not taken advantage of – on the way to work, during lunch, in a break between meetings, waiting for a flight at the airport, etc. The most important advantages of m-learning are frequently described in four English words:
anyone (m-learning is available to anyone with a mobile device);
anytime (m-learning allows you to develop your competencies at any time);
anywhere (m-learning allows you to study anywhere);
anything (m-learning makes it possible to learn almost anything).
The growing popularity of m-learning
Social changes combined with technological development have led to the evolution of education; the strategies of employee competency development underwent changes in numerous organizations.
This trend is especially visible in companies hiring younger staff. The millennial generation pays great attention not only to the technology used by the employer but also to the possibilities of developing their own competencies. It is clear from "The Millennial Generation Research Review" by the US Chamber of Commerce that millennials are two and a half times more likely to embrace new technology than older generations [1]. At the same time, 35% of millennials are convinced that their organization doesn't use those technologies properly [2].
Interesting conclusions can also be drawn from the report entitled "How Millennials Want to Work and Live" prepared by the Gallup Institute. It shows that for as many as 59% of millennials, the opportunity to learn and develop is an extremely important factor when choosing a future employer [3].
Considering the above, as well as the growing participation of the young generation in the labor market, the growing popularity of m-learning should come as no surprise. It is a response to the dynamically changing needs of modern staff – the need for continuous improvement, regardless of time and place.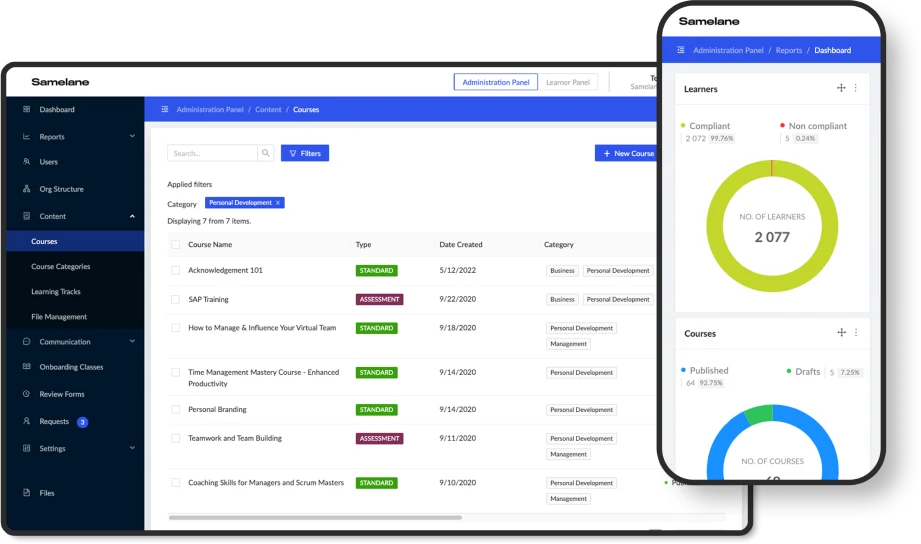 Book a demo presentation to try Samelane in action
M-learning applications and platforms
There are many m-learning platforms that offer wide opportunities for qualification improvement, but from the organization's perspective, a Learning Management System (LMS) should be the starting point. A corporate e-learning platform allows organizations to centralize the know-how, design engaging courses, and make them available to employees both in the form of e-learning and m-learning. It also provides an opportunity to collect feedback and identify training needs or possible competency gaps.
A modern LMS should be as universal as possible. It should enable employees to undergo training not only on the company computer but also on mobile devices, anytime and anywhere. The process of creating training content should also be simple and intuitive. These criteria are worth paying attention to when choosing a new platform or exchanging the existing one.
After creating a complete catalog of company training courses, it might be a good idea to expand the company's educational offer with external courses. Such initiative will certainly generate positive reception among the employees and will enable them to further explore the issues and topics that interest them.
How to adjust the training content to m-learning?
The compact size of mobile phones is both an advantage and a disadvantage. The phone that fits in your pocket perfectly fulfills all its basic roles, but only a few inches of screen size constitute a big challenge for content creators.
What works for e-learning does not always work for m-learning. Creating complex diagrams, process maps, or mathematical formulas, for example, can be problematic. When designing any training content, it is worth bearing this in mind. Before making any materials available to course participants, content creators have to make sure that all graphic materials are legible and that the content is optimally formatted and broken down into legible blocks of text. Omitting tests can result in low grades and a high dropout rate.
A characteristic feature of m-learning courses is that they are taken on the way to work or during short breaks between meetings. Considering the above, it is worth simplifying navigation as much as possible and limiting interactions to the necessary minimum. Forcing the user to click on a tiny icon on a small touch screen isn't productive.
It is also a good idea to shorten courses as much as possible, whether they are created from scratch or converted from existing e-learning courses. Only key issues should be included, and the course itself should optimally be divided into several mini-courses or modules which form a comprehensive training path. A training course lasting under twenty minutes will positively translate into student involvement and enthusiasm.
Sources: