A Learning Management System (LMS) allows companies to effectively organize learning and development processes. For years, large organizations have used such online teaching solutions to effectively implement employee development strategies and save considerable amounts of money. The COVID-19 pandemic has clearly proved that e-learning is the future of education, as it allows companies to achieve their training goals regardless of the prevailing conditions.
This article will explain the following:
How does technology popularize online learning?
Will e-learning replace classroom education?
What makes online education so popular?
Increased interest in e-learning
The e-learning market has been continuously growing for years. Moreover, there is no indication that this trend will change any time soon. On the contrary, there are many signs that it will grow even faster. According to experts, this growth will be driven primarily by the increasing availability of modern technologies, i.e. artificial intelligence (AI), augmented reality (AR), virtual reality (VR), and cloud accessibility of LMS platforms.
How does new technology improve online learning? E-learning solutions using new technologies open up many new possibilities. They allow companies to create even more engaging training courses and provide students with unprecedented educational experiences.
VR and AR make it possible to organize interesting onboarding sessions which allow new employees to learn about their responsibilities and workplace. Getting to know the necessary equipment and how to operate it in a fully controlled and safe environment is also one of the features. Such functionalities allow the company not only to speed up the training process, but also to keep fresh recruits from distracting experienced employees. Artificial Intelligence comes in handy when there is a need to answer any questions bothering the onboarded employees. AI supports the process of intelligent digital content creation and can answer questions from trainees in real-time.
According to the US Bureau of Labor Statistics, new employees in the manufacturing industry stay with their companies for less than 5 years. Research shows that – also in other industries – the average time of employees staying in the structures of an organization is gradually shortening. This entails the need to reorganize the current approach to training and onboarding policies. Modern LMS platforms and remote education are effective and scalable solutions to this problem.
E-Learning Market size surpassed USD 250 billion in 2020 and is anticipated to grow at an exponential CAGR (compound annual growth rate) of over 21% between 2021 and 2027.
Recently, e-learning has also been strongly influenced by the COVID-19 pandemic, which has become a catalyst for necessary organizational changes in numerous educational institutions. According to UNESCO, school closure affected over 1,2 billion students in 186 countries around the world in March 2020. Moreover, this unprecedented situation affected many companies and forced them to switch to a remote or hybrid work mode.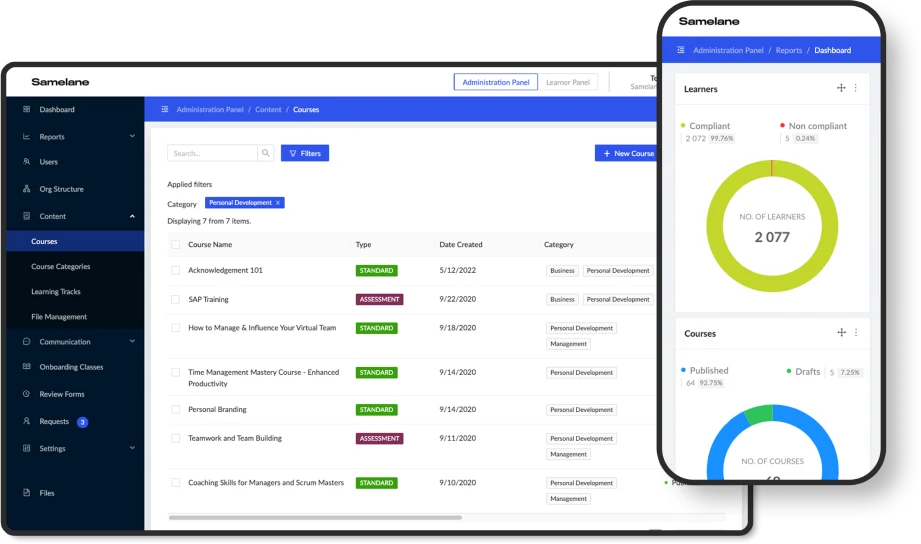 Book a demo presentation to try Samelane in action
Why will e-learning replace classroom lessons?
For years, it has been announced that e-learning would fully replace traditional classroom education, but only recently has the pandemic proved that such a scenario is very real. Should we really start to get used to the fact that in the future we will only learn remotely? A hybrid model of learning – combining classroom activities with online learning – is a much more likely scenario, but in many areas e-learning may be the only or at least the dominant form of education.
It cannot be denied that e-learning is a form of training perfectly suitable for a business environment. Why are companies so eager to conduct online courses? There are many reasons for this, and the most important are as follows:
Savings – staff training is an investment for the company and should, therefore, generate a high rate of return. By replacing classroom courses with online education, the organization can save considerable amounts of money and thus generate an even better ROI (return on investment).
Speed – hiring new employees necessitates an onboarding process, which is time-consuming. The length of onboarding training courses varies, as it is directly related to the qualifications of the employed person. Furthermore, in many organizations, especially the larger ones, onboarding training takes place at regular intervals (e.g. at the beginning of the month) when a sufficiently large group is gathered. For the company, each unproductive day is a measurable loss. On the one hand, remote onboarding translates into speed and, on the other hand, higher efficiency – an employee can start training on the first day of work, at a suitable pace, and with access to previously processed information.
Convenience – e-learning training courses are certainly more convenient and less stressful for the employees. Their speed is not set, they can be taken at any time and place, and they are adapted to any device. Online courses can even be accessed on a smartphone on the way to work or during business trips.
Standardization – each classroom training course is slightly different. Sometimes, certain issues are omitted, new examples are used, or the course is conducted at a different pace. As a result, a slightly different amount of knowledge is transferred to each group of students. E-learning is an opportunity to standardize and equalize the level of all training courses provided by the organization. All employees have access to the same training materials, which are additionally updated and supplemented on an ongoing basis.
Motivation – many employees perceive classroom courses as monotonous and boring. Unfortunately, low commitment has a very negative impact on the acquired knowledge. Nowadays, companies can increase student involvement and course efficiency by using the functionalities offered by modern LMS platforms, e.g. artificial intelligence, augmented reality, and elements borrowed from the world of games.
Particularly noteworthy features of online learning
Replacing traditional training courses with online learning courses is definitely beneficial for the organization and, at the same time, it is an attractive form of education for the employees. Research clearly shows that for many young people the possibility of continuous improvement of professional qualifications is one of the most important reasons for staying longer in one company.
Nowadays, a wide range of e-learning opportunities is necessary for every employer who wants to successfully acquire and maintain talents for years. From the point of view of employees, the list of advantages is also very long. It includes, among others, the following:
time-saving and convenience;
a rich and constantly updated educational offer;
continuous improvement of qualifications;
acquiring knowledge at a convenient speed;
access to materials whenever necessary;
checking knowledge in real-time;
high efficiency;
better educational experience and higher efficiency achieved through modern technologies such as VR, AR, or AI.
In conclusion, e-learning offers numerous benefits for both the employee and the organization. However, the key to success is to provide the staff with an extensive training catalog including courses simultaneously attractive to employees and conducive to the development of business strategies.