Acquiring and retaining talent is a challenge that organizations all over the world face every day. Although many companies pay a lot of attention to onboarding and invest in learning and development, it turns out that the offboarding process is equally important. How to let an employee go and, at the same time, ensure a positive image of the organization? How to use the available tools available in this process, for example, e-learning platforms (LMS)?
This article will explain the following:
Onboarding and offboarding – what's the difference?
How to plan effective offboarding?
What offboarding tools should be used?
What is offboarding?
HR departments in most organizations definitely focus on recruiting and onboarding new employees. According to many studies, companies spend up to 8 times more time onboarding than offboarding. This is partially understandable, as an efficient and properly designed onboarding process directly translates into financial results.
This is confirmed, among others, in a study by Boston Consulting Group – "From Capability to Profitability", which focuses on the topic of human resource management. Its authors clearly indicate that onboarding and talent retention are the areas that show one of the highest correlations with financial performance. Companies with a well-organized onboarding process achieve 2.5 times higher revenue growth and 1.9 times higher profit margin compared to companies with weak onboarding strategies. In other words, the quality of onboarding translates directly into the effectiveness of their work, the level of commitment, and rotation.
Although it cannot be denied that onboarding is one of the most important processes in HR departments, it is only one element of the employee life cycle in the company structure. It consists of the following:
recruitment;
onboarding;
development;
offboarding;
outplacement.
Continuous improvement is necessary for each of these areas. The manner in which an employee is recruited, onboarded, trained, and provided with means to develop personal qualifications directly translates into commitment, efficiency, and willingness to stay with the organization for a longer period.
Nowadays, increased employee turnover is a problem for many organizations. The problem generates extremely high costs, but also carries a lot of risks – the lack of key employees often causes a serious organizational paralysis. A few regular employees leaving the company at the same time can cause similar effects.
Consequently, appropriate steps need to be taken to prevent employees from quitting, and also to properly prepare for such an eventuality. Therefore, it is crucial to design and/or improve the offboarding process, which, to put it simply, is an instruction on how to act in the event of employee termination or resignation.
Offboarding – why is it so important?
Employee offboarding consists of all activities, decisions, and processes initiated when an employee leaves the organization's structures. How this process is designed and conducted affects both the leaving employee and the organization itself. While even the most positive onboarding impressions are generally short-lived, the way a company says goodbye to an employee remains in their memory for a long time.
It is therefore important to appreciate employee efforts, praise their successes, and properly thank them for the time spent in company structures. The way the relationship with the employee has terminated influences not only whether he or she decides to recommend the company to his or her friends, but also whether he or she will become involved with it again in the future. Contrary to appearances, this is not a rare phenomenon:
LinkedIn data shows that boomerang workers have increased across the companies on its platform this year, with tens of thousands more people returning to old employers. Boomerangs accounted for 4.5% of all new hires among companies on the professional networking website in 2021, according to LinkedIn, up from 3.9% over the same period in 2019.
Building a positive corporate image is one thing, but it is worth keeping in mind that an employee who leaves after a long time knows the organization perfectly and can share an honest opinion on the quality of management, some clearly identified procedural problems or processes requiring improvement.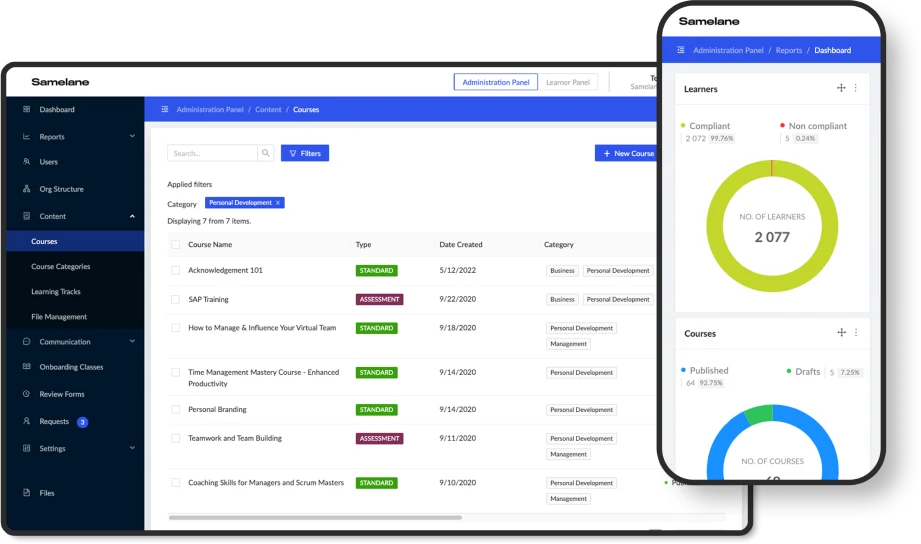 Book a demo presentation to try Samelane in action
What does well-conducted offboarding look like?
Good offboarding is a carefully planned process, devoid of chaotic activities and unnecessary delays. In larger companies, which employ dozens of employees, departures occur almost every month, hence the automation of offboarding is very helpful – not only does it organize the necessary steps, but also keeps track of any progress.
Appropriate steps should be taken as soon as the employee's termination notice is received. Necessary formalities should not be delayed; the employee should be consulted about the reasons for leaving, and any current duties and ongoing projects should be discussed. The next necessary step is to inform the colleagues about the termination and plan the process of knowledge transfer and responsibility delegation to designated persons.
The recruitment process should also be initiated quickly because replacing an employee is generally a long process – requiring not only obtaining formal approvals but also preparing a job description, defining minimum requirements, and starting the recruitment process.
On the last day of the employee's work, it is necessary to officially say goodbye to him and to ensure that the entrusted equipment, documents, entry cards, etc. are handed over. In the following days, access can be removed, accounts in company systems can be canceled and the equipment can be cleared from the data in order to be able to pass it on to a possible successor.
How to use the available tools for offboarding?
Offboarding automation is probably the most effective method of organizing this process. It allows companies to avoid any unnecessary mistakes, ensure that all formalities are completed, and control the progress made by all parties involved – the employee, supervisors, and HR department.
How does this process work in practice? The same as onboarding processes. Before the new employee shows up in the organization, his or her workplace is organized, a key card is ordered to enter the company's premises, the necessary equipment and access options are provided. The company's LMS, i.e. Learning Management System, automatically assigns onboarding training and schedules proper reminders.
A similar sequence of steps should be performed when an employee leaves the company. The employee returns the entrusted equipment and completes all termination formalities, but also closes open topics or, if necessary, provides the designated persons with all necessary information, arrangements, and knowledge.
A Learning Management System (LMS) is a centralized base of company know-how in many organizations. It's a place where which allows access not only to various training materials but also instructions and procedures. Before a key employee leaves the company, it is necessary to make sure that his unique competencies and knowledge are not irretrievably lost. Preparing the necessary documentation and updating procedures or various types of instructions are essential.
A Learning Management System can also be used to conduct an exit interview with the leaving employee. It is an extremely effective tool for acquiring knowledge invaluable for the organization – concerning not only the reason for the employee's departure but also their objective assessment of the strengths and weaknesses of the organization, its problems, or areas that require urgent improvement. Many employees leave due to a toxic corporate culture, difficult relationships with their immediate supervisors, or treatment which is unfair in their opinion. Careful analysis of the surveys allows the management to quickly identify problems and take appropriate remedial steps to prevent subsequent departures.