Onboarding is a strategic process in business because it shapes the perception of the company and influences the efficiency of employees. This is especially important in times when many members of staff work remotely and are unable to participate in company life, observe daily routines, or exchange information informally.
This article will explain the following:
What data indicates that the onboarding process is essential for the company?
What important areas should a new employee get to know?
How to create an innovative approach to onboarding?
What areas are worth digitizing with onboarding applications in order to create valuable employee experience?
Why is the onboarding process important?
Onboarding is one of the key processes in the company. Its significance is confirmed by many studies. The retention of properly onboarded employees is over 3 times greater than of those who did not undergo the onboarding process (1), and 69% of employees will stay in the company for more than 3 years if they have been successfully onboarded (2). The process also affects productivity, which can consequently increase by 70% (3).
Onboarding is important both from the perspective of the company and the employee, who can achieve better results and be successful thanks to it. The time of the pandemic strongly influenced the current habits in business. Most companies adapted their procedures quickly, but in many cases they are not fully effective. Due to the lack of personal meetings, employees may often lack information or simply not feel part of the company. It is the task of HR departments to use modern tools and solutions to create innovative onboarding processes adapted to the current situation.
Employee onboarding plan
The onboarding process has some unchanging key elements that must be taken into account when preparing a plan. People joining the company must, first of all, get to know its mission, values, structure, internal procedures, supervisors, team, their daily tasks, and workplace. The onboarding of new employees is a huge challenge on many levels of the company and many people from different departments must be involved so that a given employee can work effectively and fully use his or her potential. On the other hand, the adaptation process itself should be coordinated by the Human Resources department (in larger organizations, an onboarding specialist is often appointed). This is due to the fact that HR often has a broader view of the company and the necessary experience. As a result, it is possible to implement the best onboarding practices, and not ones based on habits – especially since many companies are not adapted to remote processes forced onto the world by the COVID-19 pandemic. The more and more frequent use of onboarding software is a growing trend because it is a solution to many problems resulting from remote transfer of knowledge.
How to design innovative onboarding?
Innovative solutions can be implemented in many ways. One of the best ones is the implementation of a design process, which includes the stage of research, defining problems and needs, brainstorming and other techniques which increase creativity, help create, improve or abandon ideas, prototype them, and finally – design optimal solutions. The process should, of course, take into account well-defined goals which will translate into reliable measures used during the implementation and evaluation of the process.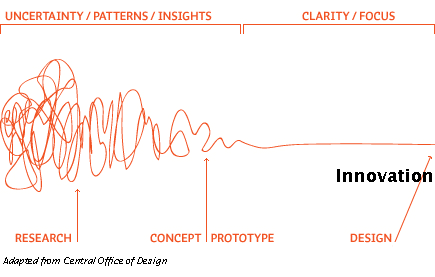 At the research stage, it is crucial to look at what the onboarding process itself looks like taking with regard to the necessary formal elements (such as onboarding documents) as well as other factors – organizational aspects, training effectiveness, and its emotional side. For new employees, joining a company is usually associated with many experiences – from uncertainty, excitement and joy to weariness. Preparing a journey map of the onboarded employees is an interesting solution which may help reinforce positive and reduce negative experiences.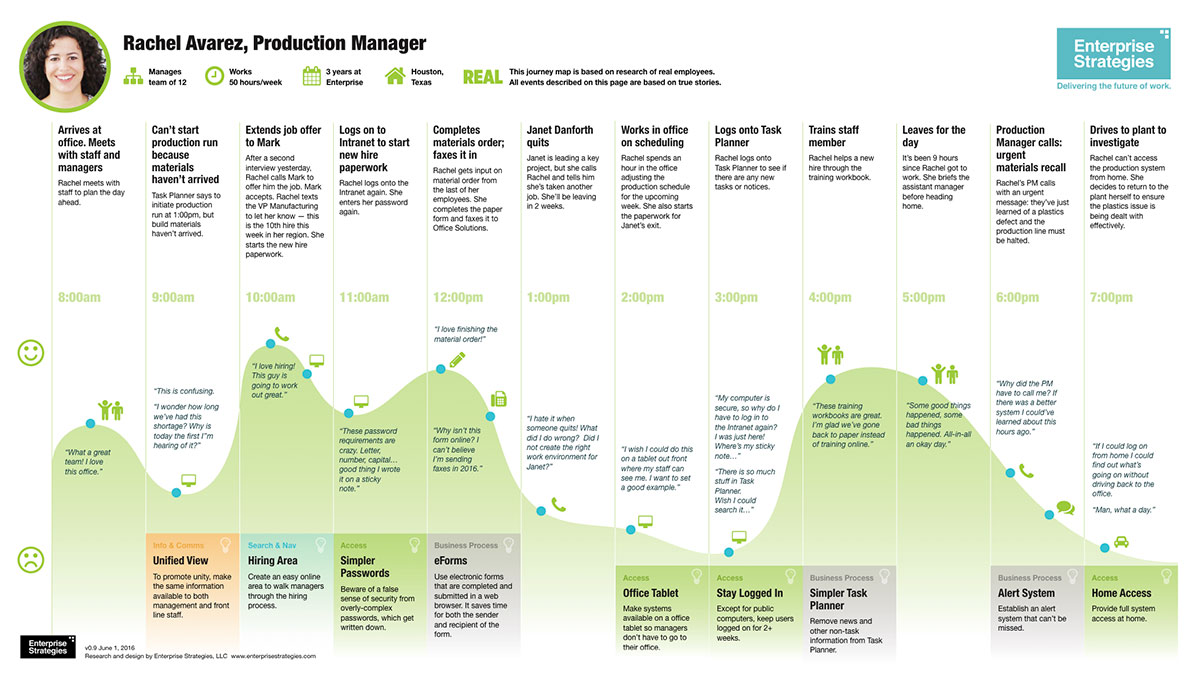 The entire research process should lead to a stage where a full and reliable process checklist is created. Not only new employees, whose onboarding will be systematized, but also the entire company will benefit from this step. Moreover, HR specialists can analyze the checklist, find repetitive elements or those which, due to their nature, would benefit from digitization, and use onboarding tools to make them more attractive.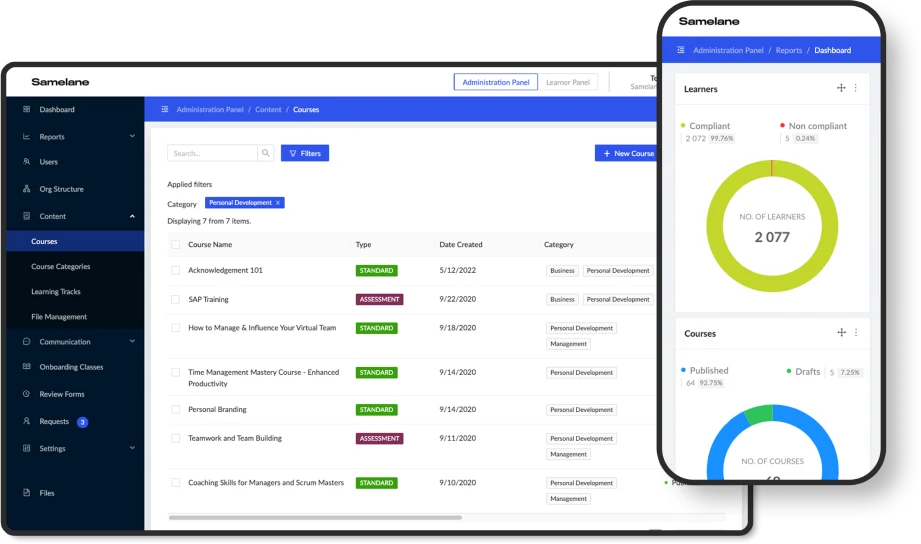 Book a demo presentation to try Samelane in action
4 steps of employee onboarding using an LMS
Earlier research shows that innovative solutions are worth implementing, but not every company has the time and comfort to do it. Below, you will find a list of 4 areas where the use of e-learning platforms has a positive effect on the onboarding of new hires. Thanks to them, the entire process is more adapted to both employees and people responsible for onboarding, including the HR department.
1. Tools and procedures
To new employees, learning how to use individual tools used in their daily work is often a big challenge. For those responsible for onboarding, it is a repetitive and tedious task. The same is true of procedures which are mostly unchangeable and contain lots of information which can overwhelm a new employee. Therefore, this area of training is perfect for a Learning Management System (LMS). It allows the information to only be collected once and this knowledge is then reliably communicated (regardless of the onboarding tutor and their mood). An LMS reduces the risk of human error – in the form of, for example, forgetting to inform a new hire about an important process.
E-learning platforms also allow management to prepare a path for users – that is, the specific order in which individual training courses are to take place. This allows course participants to study individual aspects separately, to spread the acquisition of important information over time and, last but not least, to return to the material and revise it. Moreover, the people responsible for onboarding are relieved, in particular with regard to the transfer of basic information. This solution is suitable regardless of whether the company has implemented remote onboarding or still conducts it on the premises. Access to key information is ensured.
2. The company
An onboarding app allows companies to provide employees with much more information than just standard training courses. Content can be presented in an attractive way with the use of specific formats, e.g. video. This is a suitable method to present the company's history, its mission and values, and to explain what they result from. In addition, an LMS enables the employees to take a virtual walk around the company. This way, they can get to know the working environment before they even physically enter the building. Such a solution can also increase the comfort of those who have the opportunity (and not the obligation) to come to the office, but do not feel very confident in it.
3. Training and development
Introducing and maintaining consistent standards in the company, both in terms of soft and hard competences, is a real challenge. This process is worth starting from the moment a new employee joins the team. E-learning allows companies to implement appropriate onboarding training sessions which provide natural access to key information. Additionally, the best e-learning platforms are equipped with learning management system algorithms which suggest particular courses based on user performance and preferences. Such training programs immediately introduce the employee to the culture of developing their competences, show them new areas in which they can develop, and start positive employee experiences in the field of talent management.
4. Coordination and evaluation
Regardless of the preparation process, the onboarding process is a challenge for HR specialists, as it is a project that must be properly coordinated. A dedicated Learning Management System can significantly facilitate this aspect as well. An onboarding app is correlated with analytical algorithms which allow users to track their progress and generate reports on passed tests. They also offer pulse-checks making it easy to study individual areas. As a result, HR can more easily coordinate the process for each new team member in the company and implement appropriate measures and decisions based on the collected data.
Proper learning management tools can greatly facilitate onboarding for any participants of this process. They also make the onboarding mode – stationary, remote or hybrid – dependent on the needs and strategic goals of the company, and not on the availability of individual trainers. Like any process, onboarding can be constantly improved, preferably on the basis of employee research. Last but not least, it is worth remembering that, on many levels, dedicated onboarding applications can ultimately translate into large profits for the company.
Sources:
The True cost of Bad Hire, Brandon Hall Group