A properly designed and implemented training strategy is an effective way to reduce employee outflow rate, improve work efficiency, and retain talents in the company structures. It is also an effective method of building the company image and attracting employees with the appropriate profile from the market. Obtaining such results, however, is not a simple task. It requires a suitable approach, an analysis of training needs, and a system infrastructure which will allow free access to training materials.
This article will explain the following:
What is Learning & Development?
How do training programs affect employee performance?
How can a Learning Management System (LMS) influence the training outcome?
What is Training & Development?
Training and Development should be understood as all educational activities undertaken by a company to meet its current and future needs, as well as the needs of its employees.
Training courses are usually short-term processes consisting in providing the employees with specific knowledge, competences, or instructions necessary to perform, or to improve the performance of, particular duties. The initiative to organize training courses is generally taken by company management, while the goal is to meet the current needs of the employee.
Development covers a much wider spectrum of tasks, as its goal is to provide employees with wide opportunities in the field of personal development. It is a continuous proactive process whose task is to adapt to employee training needs and actively respond to them.
Why is Training and Development important?
Training and Development of employees has long been a quintessential part of business instead of a means to stand out in a competitive labor market. Offering wide opportunities for development and acquiring new competences is more and more often treated by employees as a necessary standard, hence many organizations include Training and Development in their operations and invest considerable resources in providing the widest and most attractive growth opportunities.
From the perspective of the management, the Training and Development of employees are an investment with a potentially high rate of return. It is not a matter of direct investment return, but rather long lasting effects manifested as significantly higher work performance – better efficiency and higher quality of services or products manufactured.
Leaders and HR departments have long noticed a large dependence between training and employee performance, which is why they constantly improve the existing training strategies and supplement them with new elements, which are a response to the changing needs of their staff. Many companies have decided to supplement internal training courses with external courses, financing or co-financing studies or international certificates, offering participation in industry conferences, providing free access to leading educational platforms, coaching and mentoring, etc.
While it may seem like an extremely costly strategy, the potential benefits may exceed their value many times over. However, the needs of the company and its employees must be carefully considered, along with the potential impact on employee performance. Only after a thorough analysis of the needs is it possible to start building an optimal offer of training courses and other development opportunities for employees.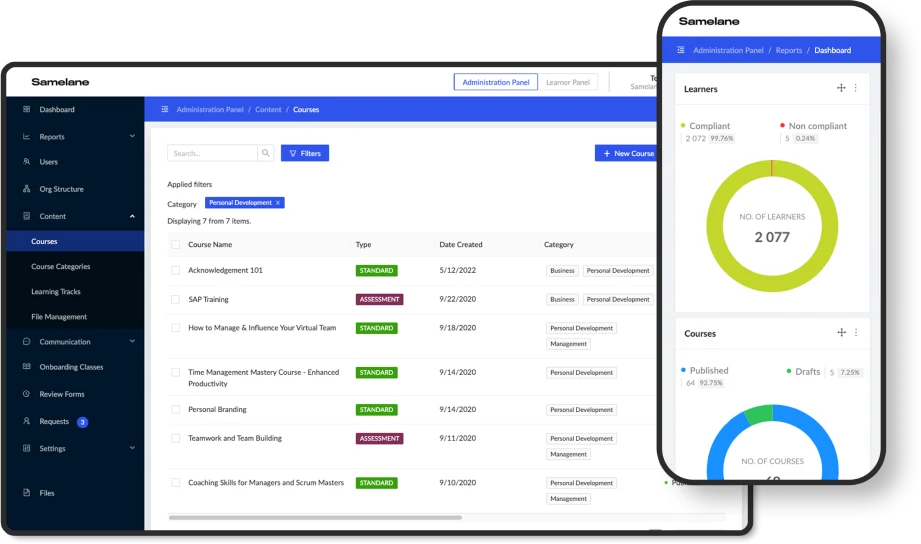 Book a demo presentation to try Samelane in action
How does training affect employee performance?
There are many benefits of successfully implementing a Training and Development strategy. The most important definitely include:
Attracting talent
As many as 35% of Millennials indicate access to training as one of the key factors in favor of employment in a given company, right after the possibility of getting promoted and the salary level.
Retaining employees for longer in company structures
74% of the PwC survey participants expressed readiness to acquire new skills or to change industries to increase their chances of being employed in the future.
According to the study "The Value of Training" by IBM, meeting employee training needs and professional aspirations reduces the risk of their departure by a factor of 12.
Generating considerable savings and additional profits
Employee training is much cheaper than hiring new employees to replace them. Work Institute estimates that the costs of hiring a new employee constitute as much as a third of the annual salary of the one who decided to leave. The higher the outflow of employees, the higher the costs incurred by the company. Time is also relevant – finding and hiring a new employee takes at least a few weeks. The same amount of time is usually spent on onboarding.
The benefits of training courses are also indicated by Harvard Business Review, which argues that a properly designed employee development strategy can translate into a sales increase of 10-19% and a profit increase of 14-29%.
Improving process efficiency and employee performance
A study by the National Center on the Educational Quality of the Workforce (EQW) determined that an investment in training produces much better results than an investment in equipment. A study of 3,100 companies in the USA revealed that a 10% increase in knowledge and competencies leads to an 8.6% increase in productivity, while an 10% increase in equipment value results in a productivity increase of only 3.4%.
How to effectively train employees?
Even the best training strategy requires an appropriate system infrastructure. It is necessary to gather all the company know-how in one place, create attractive courses, and then complete training paths which will allow employees to acquire comprehensive knowledge or skills. A Learning Management System (LMS) is definitely a proper tool to achieve this goal, as it provides means to gather training materials in one place and to manage them effectively – edit, modify, update, etc.
E-learning is a form of acquiring competences which ensures high efficiency without incurring excessively high costs. Due to scalability, remote training is a perfect solution for large organizations, as well as companies which operate in multiple locations and thus want to reduce the costs of business trips and accommodation for training course attendees. What about effectiveness? The best LMS platforms allow users to work on many different file formats and include elements of augmented reality, thanks to which a course can be no less engaging and fascinating than a computer game.
The appeal of training materials is one thing, but e-learning platforms provide much more. They offer, among others, the possibility to reach training materials at any time and place, using almost any device – stationary or mobile. From the management's point of view, a wide range of reporting options, continuous monitoring of student progress and automatic assignment of training courses to employees are also huge advantages. An LMS allows businesses to automate the work of HR departments, support the implementation of training strategies and, at the same time, increase the morale and satisfaction of employees.