The manufacturing industry overwhelmingly relies on the use of advanced machinery and equipment which, unfortunately, sometimes refuse to function properly. Their quick repair allows companies to maintain production continuity and carry out orders on time. Any downtime usually generates huge losses and exposes the company to potential contractual penalties. How does augmented reality (AR) help solve such problems today? What is remote maintenance and repair?
This article will explain the following:
How does Industry 4.0 use Augmented Reality?
What is remote support and how can a smart factory work today?
What business areas are AR glasses suitable for?
The characteristics of the manufacturing industry
The pandemic situation made many entrepreneurs from the manufacturing industry aware of the power and benefits of modern technology. Its most important features include remote support and remote access, which help quickly and efficiently solve many problems faced by production employees every day. Even a short-term downtime can generate high losses for the organization, and at the same time expose it to the consequences of failure to fulfill obligations. Consequently, it is extremely important to restore full operational capacity as soon as possible. Permanent employment of a specialist who monitors the condition of the machine park is expensive, and therefore not always justified from an economic point of view. The use of external specialists is an alternative, but such specialists often aren't available immediately and it may take them a long time to reach the machine park. One should also bear in mind the limited resources of experts.
This is where remote access solutions come in handy. In other words, augmented reality (AR), which allows a professional – who is in a completely different location – to look at a broken machine through the eyes of an operating employee and tell them how to fix it. As a result, the company can save considerable money and quickly return to full production efficiency.
Remote access and monitoring also allow companies to carry out regular inspections of the machine park and thus prevent potential failures and costly breakdowns. Although remote maintenance and repair can work in any production company, it should be considered primarily by those entities which have their production plants in several different locations and, for economic reasons, maintain or plan to maintain one support center.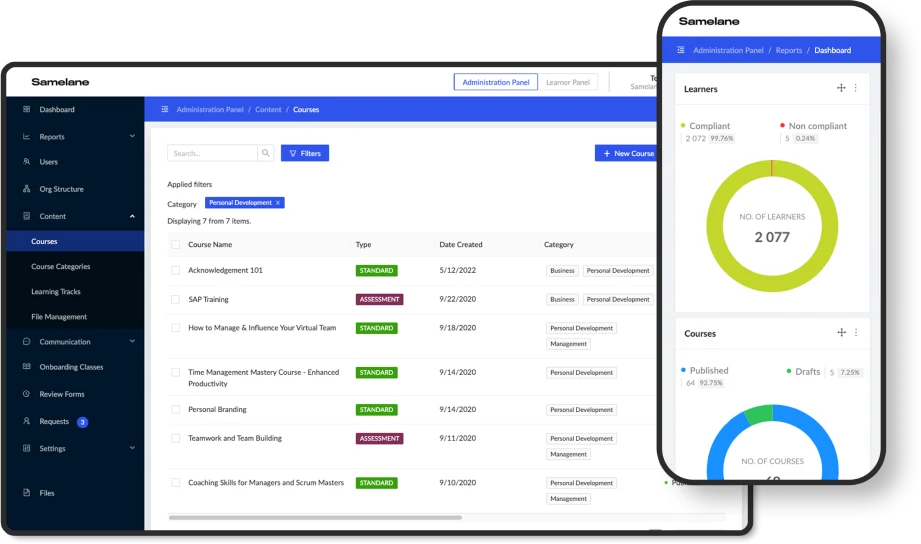 Book a demo presentation to try Samelane in action
Problems solved by remote support
Remote support in a crisis situation is just one of many examples of the use of augmented reality in a manufacturing company. Remote support software and augmented reality glasses also allow you to remotely carry out acceptance tests and thus complete implementation projects without delays.
Smart glasses are also widely used in training and allow companies to obtain satisfying results. Why? Because on-boarding training courses, especially in larger companies, are carried out almost every month. They are time-consuming and involve the participation of experienced employees, preventing them from carrying out their daily duties. For the company, this is a measurable cost which AR glasses can quickly and effectively eliminate. The principle behind AR glasses is very simple. All that needs to be done is turn on a previously designed training course, such as machine operation, on AR glasses. With the glasses on, the employee's hands are free, which is undoubtedly an advantage and allows them to perform the necessary activities in accordance with the instructions displayed in augmented reality.
As a result, on-the-job training courses are carried out in an extremely effective and engaging manner, and, at the same time, they are completely safe. The AR glasses display appropriate messages/instructions to the employees in real time and inform them what the individual components of the machine are for and how to properly operate them. AR glasses can also warn employees of the possible consequences of certain actions, such as turning off the machine or switching it to another mode. Consequently, certain actions need rethinking or repeating. Human error is responsible for a significant part of downtime and failures in production plants. Therefore, appropriate training and continuous improvement of staff competences is the most effective way to reduce unnecessary losses.
How does remote AR assistance work?
Remote team instruction is a modern and, importantly, cost-effective solution which fits in with the idea of industry 4.0 and modern trends. Despite the fact that it is based on modern technology, it remains extremely accessible for the end user. From his or her perspective, using remote assistance is just a matter of putting on smart glasses. The glasses and pre-designed training materials, or the glasses and a supporting experienced employee are responsible for the rest of the activities. As a result, the employee obtains the necessary instructions and knows exactly what steps to take.
Smart glasses have another great advantage – they can record instruction sessions with company experts. Later on, employees may watch these recordings again if the same problem happens in the future. Having a database of such recordings allows employees to be able to solve many problems without the need to involve third parties.
Examples of remote support applications in industry
Remote access solutions are already employed by numerous companies today, and the examples of augmented reality use are abundant. In addition to the above-mentioned examples, smart glasses can be used by warehouse workers in order to find the necessary materials or finished products on the shelves more quickly and efficiently. Remote support is also an effective method for more detailed quality control, production processes monitoring, and human error identification.
An interesting example of how the manufacturing industry uses the capabilities of augmented reality can be found in our project carried out for the TKM Projekt company, whose modern technology has enabled remote acceptance tests of a laser engraving system – more.
The benefits of using AR in the manufacturing industry are undoubtedly huge, but dependent on the specifics of a particular organization. It cannot be denied that remote support and training in augmented reality allow companies to achieve a completely new level of innovation and improve their competitiveness. Moreover, businesses can more effectively achieve business goals, reduce unnecessary costs, boost employee productivity, increase production capacity and, more importantly, improve the safety of their employees.