With the introduction of event content type, you can set up and take part in webinars directly on the Samelane platform. In this article, you will find out how to create and conduct webinars.
Setting up a Webinar #
To set up a webinar on the Samelane platform you have to add a webinar event to the course on the platform. Click here to find the details.

In this article, we will focus on features available for moderators. Moderators can be specified when setting up an event in the course builder, as below: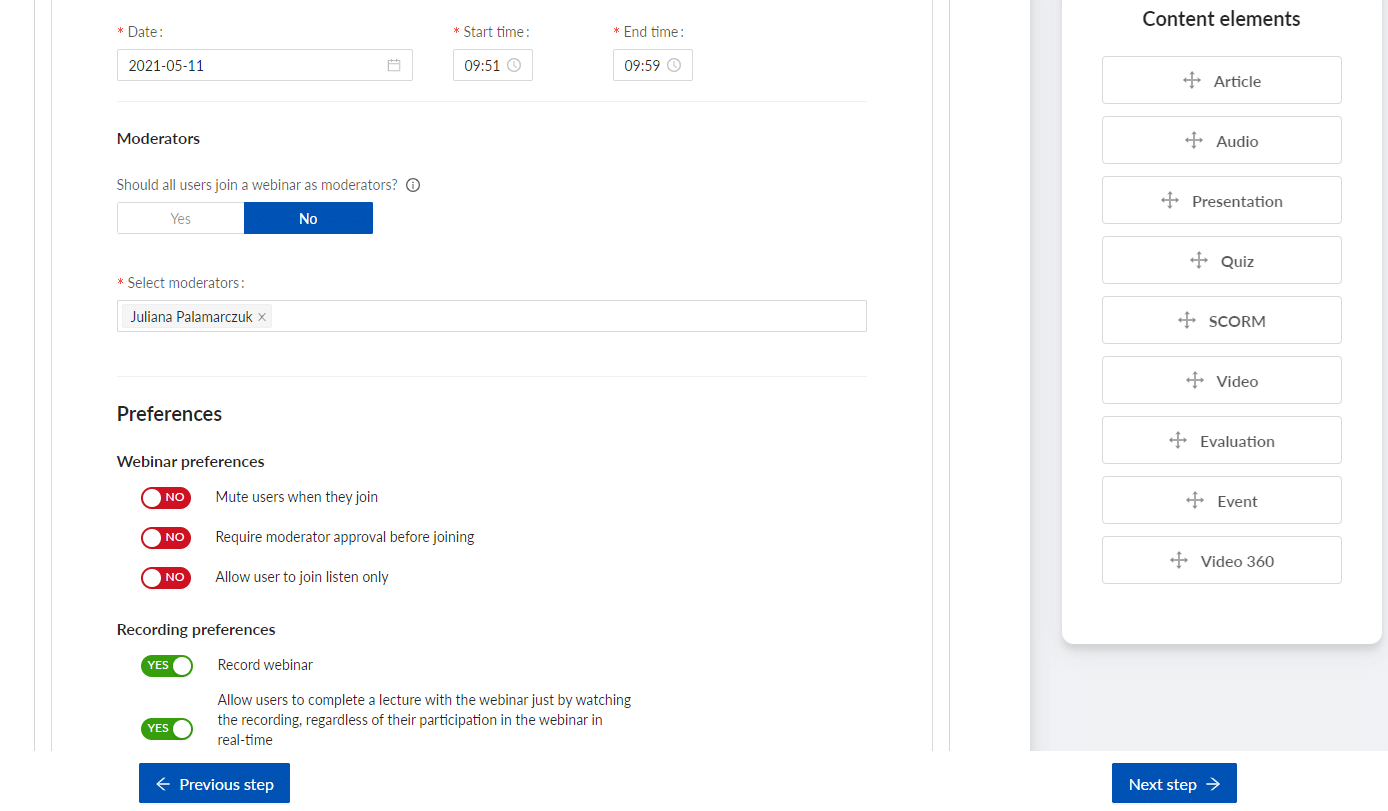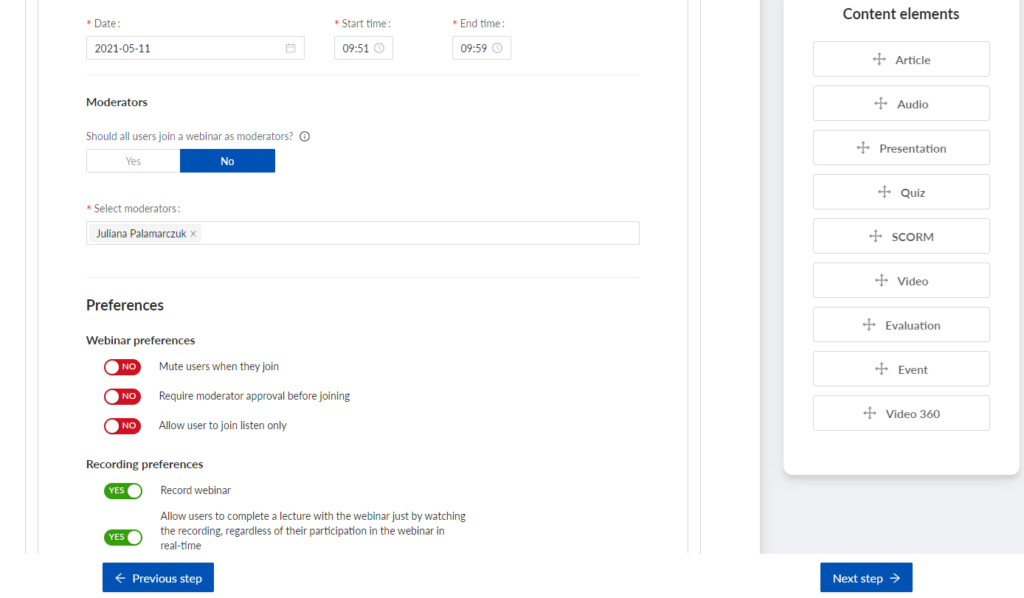 Moderators are users with permissions to moderate the webinar – they can approve users joining a webinar, moderate voice discussion, allow users to conduct a presentation on the webinar, etc.

Moderator's Tools #
As a moderator, you access the webinar in the same way a user does. Find out how to join a webinar and its features here: Webinars tool and features.
Presentation Tools #
During a webinar, you have access to additional actions that are not available for other participants.  If you are a moderator and presenter you can find the most useful tools by clicking on the blue plus button bottom left of the presentation. First of all, you can upload and display presentations from here. To do so choose Upload presentation.

Here you can add files by dragging them to the upload box. If you have multiple files uploaded, you can choose which one should be currently displayed by clicking on the checkmark on the right. Uploading multiple files before the webinar starts can be especially useful when you are planning to use many different files in your presentation – once they are uploaded, you can change them fast and seamlessly for users.

Except for displaying presentations to users, you can also share external videos – if you want to show a video, you do not have to upload it to the webinar tool. You can share it using the same menu that is used for uploading presentation files. Choose Share external video and add video URL in the pop-up window.
Once the video is shared, it will be displayed to all the users. You can play and pause the video for the users if there is a need to add anything to the video's subject.
While presenting you can also share your screen with other users – you need to press the Share screen button below the presentation. Then you will be asked to choose what part of the screen you want to share with webinar participants. Choosing the Entire screen option is especially useful when you want to show something outside of the browser – for example a project you are working on in another application. If you do not want to share your entire screen you can always share a browser's Window or a Single tab.

Other Tools #

During your presentation, you can create a poll – it is a great way to ask questions avoiding unnecessary chaos on the voice or public chat. To do this, choose the Start a poll option. A menu will display on the left, next to the users' list. Here you can choose predefined questions and answers or choose to add custom ones.
A poll will be displayed as a pop-up on the bottom right side of the user's screen:
As a moderator, you have a live preview of the survey results and which users already responded to. Access to that makes the poll option a great tool to check which users are actively participating in the webinar.
Once you collect the answers, you can publish the poll result – it will be displayed in the bottom right corner of the presentation.

On the right side of the presentation, there is a Tool Panel. 
Here you can find Drawing and Text tools to mark and highlight parts of the presentation. You can easily undo and remove all created annotations, so you do not have to worry about the readability of the presentation. Moreover, you can turn a Multiuser Board on – so all of the participants gain access to the Tool Panel and can highlight parts of the presentation. It is especially useful for discussing longer or more complicated texts – you can focus on explaining parts of the texts highlighted by the users.
Apart from the tools helpful in presenting the webinar, as a moderator, you have access to other additional functionalities of the Webinar tool.

You can do it by muting/unmuting participants, making them a presenter, promote to a moderator, or even remove them from the webinar. Manageable user roles are especially useful in meetings where more than one person is scheduled to give a presentation –- for example, seminar classes or group project presentations.

Manage the Public Chat. As a moderator, you can save chat content, copy it, or delete all previous messages. These are useful tools when the presenting person asks a question and users have to answer on chat – you can easily clear the chat, and save the answers.

Webinars are one type of event only you can create on the Samelane platform – to learn more, check Events in Samelane.