With the introduction of event content type, you can now take part in webinars directly on the Samelane platform. The webinars tool is customizable and introduces brand-new features – in this article, you will find out how to use and configure it.
Joining a webinar #
To join a webinar, open the course in the My Courses section. In the course window, you will find the Join Webinar button that becomes active 10 minutes before the webinar starts.
After joining the webinar, a new tab will open for the webinar itself.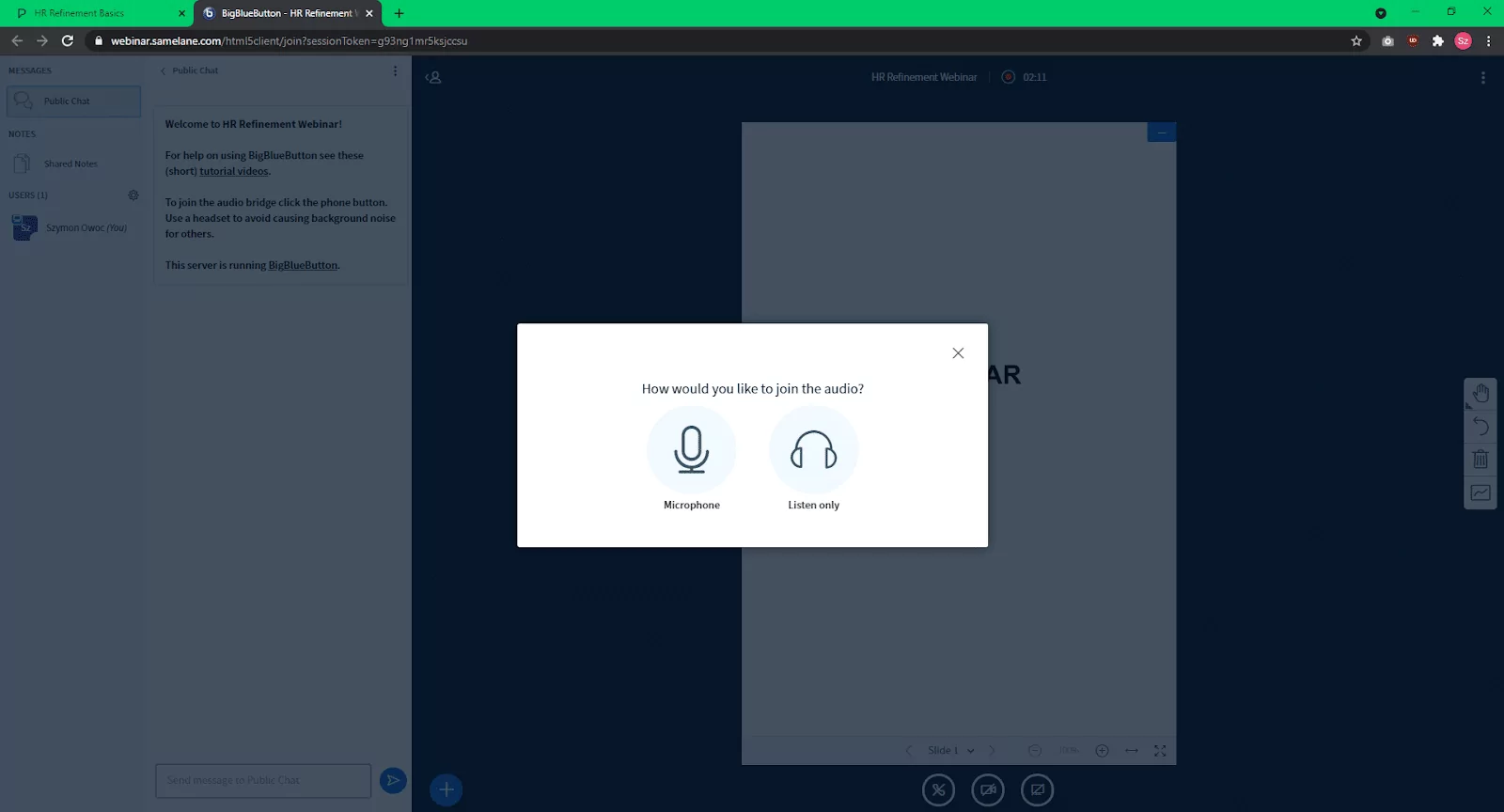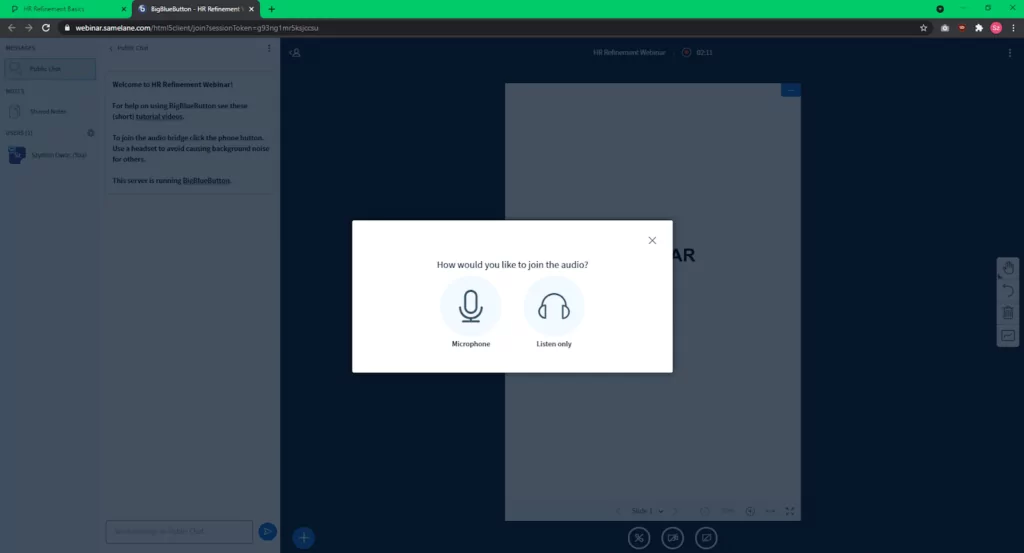 You will be asked how you would like to join the audio – with your microphone on or listen only.
If you choose the microphone option you need to conduct the "Echo test".
If not, you will be asked to adjust your microphone and speaker settings and to take the "Echo test" again.
After joining, you will see the webinar window with a presentation displayed:
Webinar settings #
Keep in mind that your microphone and camera are off by default. You can turn them on by changing the setting below the presentation window.
In the top right corner of the webinar screen you can access additional settings of the webinar rooms:
Set the presentation to full screen
Enter settings of the webinar room
Get additional information
Access webinar tools tutorial
See keyboard shortcuts
Logout from the webinar
In settings (2) you can set up the application:
This includes turning off application animations, such as an animated loading icon on accessing Shared Notes (1), setting audio and pop-up alerts (2,3,4,5) – this manages pop-ups showing on the right side of the screen.
You can also change the application language (6), turn off audio filters (7) responsible for canceling background noise, and set the font size (8).
Apart from that, you can also turn on data savings by disabling webcams and desktop sharing.
Webinar features #
Once you join the webinar, you can use the features of the webinar application.
On the left side of the screen, you can see a list of participants. You can send messages to other users, ask questions or share your opinion on the topic, using the Public Chat feature.
If you do not want to send messages to the public chat, you can also send private messages. Starting a private chat allows you to speak directly with every participant.
There is also a way to create notes with other users in real-time – in Shared Notes all participants can work on the subject. At any moment notes can be exported in various formats – to do that you have to click on the icon on the right.
On the user list, you can also set your status or raise your hand if you would like to speak up:
The statuses will be visible to every user and can be used to manage asking questions in voice chat, cheer the presenter, or vote on ideas suggested at the meeting.